JOY YANAI, DPT
Mobile Physical Therapy Director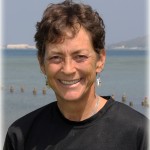 DEBORAH BLACK, PTA
Mobile Physical Therapist Assistant
Mobile Therapy is designed to service our patients who are having a difficult time getting to one of our clinics.
Our mobile therapy team comes to you and provides physical therapy in your home. Our goal is to maximize your functional mobility and strength at home so that you can safely return to the community. We will cooperatively design a treatment plan with you to optimize your function.
Why mobile therapy at home?
You just had surgery and your physician would like to start your therapy at home.
You have difficulty traveling to/from the clinic due to physical limitations or transportation issues.
You have trouble with balance, walking and are at risk for falls.
You or a caregiver need training for fall prevention and safety at home.
You are uncomfortable in an outpatient setting and feel will do better in the privacy of your own home.
Common conditions or injuries treated at home:
General: Weakness due to age, injury or illness, cardiac conditions and pulmonary conditions
Orthopedic and Musculoskeletal Conditions: Arthritis, trauma, fractures, joint replacements, sports injuries, work injuries, overuse injuries, ligament sprains, and muscle strains.
Neurological Conditions: Stroke, Parkinson's disease, spinal cord injury, other nerve injuries, traumatic/non-traumatic brain injuries, and multiple sclerosis.
Non-Specific Functional Decline: Increasing difficulty with walking, balance, getting in and out of a bed or chair, and falling.
Fall Prevention and Safety Assessments: provide evidence based fall prediction tools and environmental safety assessments.
---
Mobile Therapy FAQs
What is mobile therapy?
Mobile therapy is the same type of physical therapy you would receive in an outpatient clinic but occurs at home. A member of our mobile therapy team will come to your home to treat your injury/condition.
What areas on Oahu do you travel to?
Our  mobile therapy team serves the Windward area, Waimanalo to Kahaluu.
Will my insurance company cover mobile therapy?
Mobile therapy is covered by most insurance companies. It is billed the same way as regular outpatient therapy. If you are unsure whether we are providers for your insurance company, please call us.
How do I get a referral for mobile therapy?
Obtain a referral from your physician indicating "mobile" therapy. Mobile therapy in your home is billed the same as physical therapy in the clinic.
During the course of my treatment, will I be able to transition from home to the pool or clinic?
One of the main goals is to have the patient transition from mobile therapy to the pool or clinic.