We asked Claire a few questions about her time with Fukuji & Lum and to reflect on her experience in the clinic and living in Hawaii.
What was the one experience that you think was the highlight, both inside and outside of the clinic?
A little bit of context: I had the opportunity to work at almost all the clinics throughout my six months at F&L. I started, and worked primarily, at the Kailua clinic, with a weekly trip into town to the Honolulu clinic. Towards the middle of my co-op, I spent most of my time at the Kokokahi YWCA aquatics site. For my final two months, I worked mostly at the Laniakea YWCA pool, with a day or two per week at the Kokokahi pool. My final day of co-op, though, was spent working at the Kailua office. On that last day, I felt confident in my ability to take patients through their exercises and write their notes, which was a huge change from the start of my co-op. It was rewarding and fulfilling to hear the Kailua team tell me how much I had grown and how excited they were for me. The cool thing is that I didn't realize how much I had grown until they told me, and I thought, "Wow, they're right!" It was a perfect end to co-op that brought my experience full circle.
Outside of the clinic, I was fortunate to have heaps of adventures that made every outing feel like an event. It still blows my mind that activities like going to the beach and hiking are everyday activities in Hawaii, so everything felt like a highlight to me. However, swimming with sharks definitely stands out in my mind. It was a humbling, calming, and exciting experience that I will always remember. We even saw early morning surfers and Hawaiian spinner dolphins on the boat ride back to shore!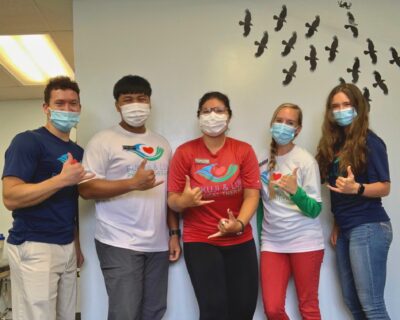 Who had the most impact on you during your time here?
So many incredible people shaped me into who I am in so many ways that I don't think I can pick one person! I love all the clinicians, and each one had an impact on my time. The patients, however, probably taught me the most about myself and the practice of PT. They helped me discover my PT-related interests, how to interact with them in a way that was both professional and fun, how to problem solve, and more. I enjoyed having fun conversations with the patients and enjoyed their company in general! I remember looking at the schedule and being excited about who was coming in each day. They frequently gave me awesome recommendations on things to do and foods to try.
What was the most surprising thing that you did not expect to learn?
I hoped that I would get to learn about and get a good feel for Hawaiian culture, but I had no idea that it would embrace me, too. From the atmosphere on Aloha Fridays, to learning Pidgin and other local phrases, to the widespread Aloha Spirit, I felt like I was part of the community, not just an outsider looking in. Also, I did not expect to acquire an affinity for reggae music. I've concluded that you can't listen to reggae music and not be in a good mood afterward 🙂
If you had to choose one word about your experience, what word would you choose?
Growth.
Towards the end of my co-op, I was fortunate to have the opportunity to work more closely with Art, and whenever we saw a particular patient, we each chose a "word of the day." A few of our words included: gratitude, peace, humanity, faith, celebrate, malama, Aloha mai kākou, etc. Reflecting on those conversations, I realize that everything comes back to growth. I have grown in my understanding of myself and others, embracing my environment, being a professional, countless ways to be a good PT, and so much more. The most important part, though, is that I left knowing that you can always keep growing in every aspect of life.
From this experience, what intentions will you have going forward with your career?
In short, I plan to keep growing! I was surprised to learn that I am interested in neurology and have specific interests within orthopedics. With that in mind, I will be open to whatever opportunities arise in the future, even if it is something that I think I am not interested in. However my career progresses, I will treat patients with the same compassion and kindness that I witnessed throughout F&L.