Partnership with Northeastern University
Fukuji & Lum Physical Therapy has been a Co-op (Cooperative Education) partner with Northeastern University since 2008. We are dedicated and committed to providing students with the education and experience they need to work in the field of physical therapy.
Each year we accept outstanding NU physical therapy students as full-time employees and give them the opportunity to gain valuable work experience in an outpatient orthopedic clinical setting. These students will primarily assist our highly qualified physical therapists with outpatient care at our clinic locations in Honolulu and Windward Oahu, including the outdoor heated pool in beautiful Kaneohe.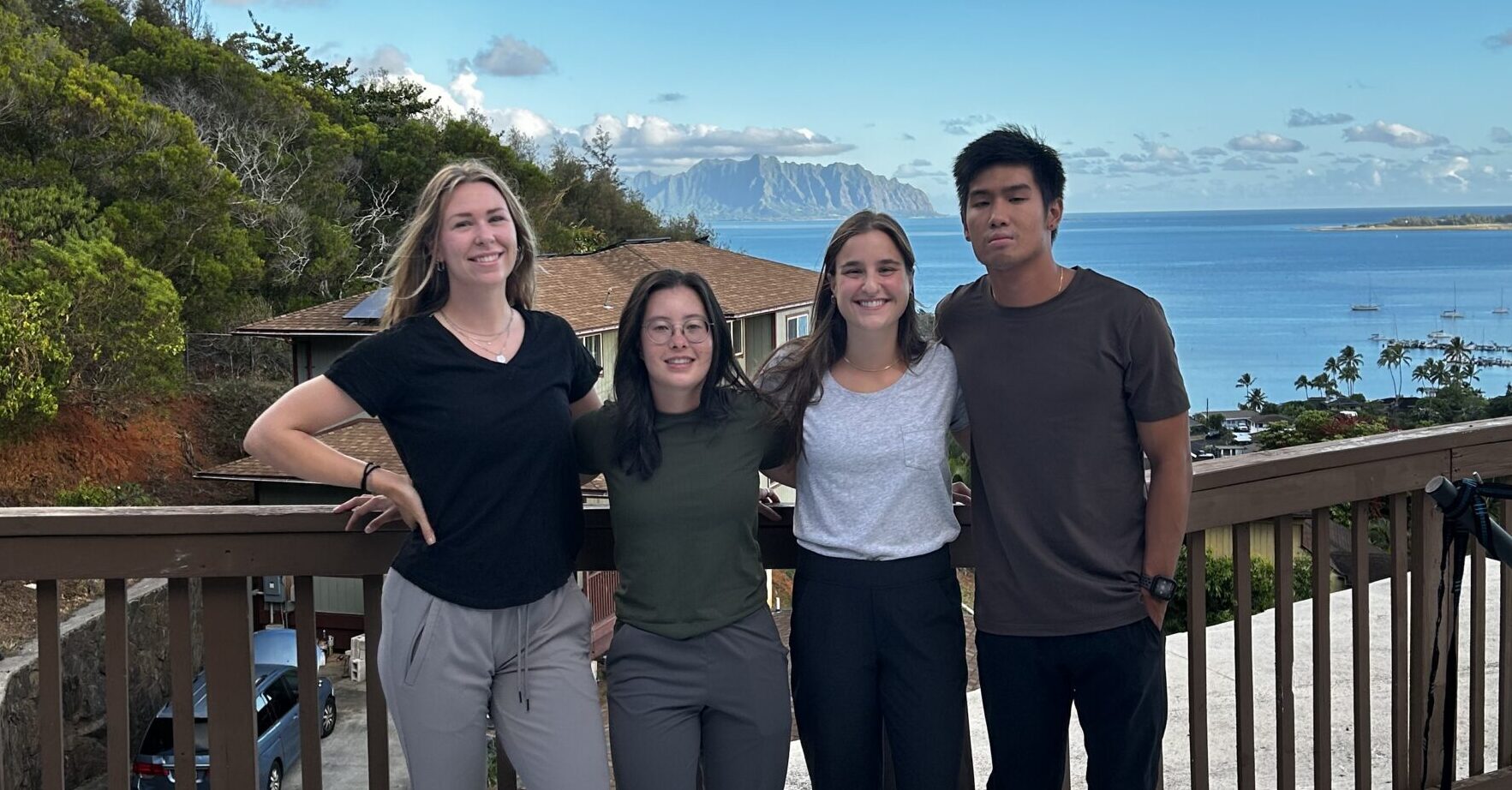 Clare, Jenna, Melissa, & Jevin
The journey to Hawaii will offer students tremendous life-changing experiences as they strive to balance work, play and new discoveries during their 6 month Co-op with the Fukuji & Lum Ohana (family). Besides being formally educated with the knowledge of what it takes to become a physical therapist, each student will leave with the "Aloha Spirit" enriched by great memories and an awesome tan!
Check out their blogs and read all about their 'work and play' experiences. https://fukujilumpt.com/happy-at-work/
Working at F&L's WORC clinic and YWCA aquatic locations for my first co-op was a little bit of heaven. I had a good feeling that I was going to love it from the moment I first started browsing the website and saw the mission statement: "To deliver fun, happiness, and compassion in serving our patients". That isn't just a catchy phrase, it's the culture and energy that you feel when you walk into the clinic. It's real, and its pretty incredible to experience and be a part of… My days at F&L were filled with a whole lot of smiles, laughs, and high-fives 🙂 On top of that, there are tons of opportunities to learn and grow your clinical knowledge if you want them and seek them out. And, needless to say, the location pretty awesome too (slight understatement). I'm so grateful that I got the opportunity to spend part of my journey at F&L 🙂 Mahalo nui loa!
I am externally grateful for the time I spent working at Fukuji & Lum. After I was welcomed with open arms on my first day, I knew that I had found my home away from home. I thank you F&L for providing me with many valuable tools and lessons that will help me to become the physical therapist I would like to be one day. My time spent there was some of the best months of my life. I miss you all very much!! Mahalo Nui Loa!
Having the opportunity to work at Fukuji & Lum Physical Therapy was a once in a lifetime experience for me, and I can't thank everyone at F&L enough for my 6 months in paradise. It's sad to believe my short time with F&L is already over and I'm back in Boston, but Hawai'i, the memories, and the friends I made along the way will be with me for years to come.
In six short months of working with Fukuji & Lum I forever changed how I will practice physical therapy for the rest of my life. This experience taught me how to not only be a stellar therapist, but to be just a little bit calmer, and a little bit wiser while I do just that. I'll forever cherish my time with Fukuji & Lum, but I know that my patients and I will feel that aloha spirit for as long as I practice. Mahalo nui loa!!
The amount of experience I gained and the friendships I created through my co-op at F&L is invaluable. Physical therapy is brought to a whole new level when you add in some aloha!
Doing a Co-op in Hawaii and working at Fukuji and Lum was one of the best experiences I have ever had. Everyone working there was extremely friendly and helpful, and always tried to make my experience there the best it could be. I would highly recommend it to anyone. If you are worried about being so far away from home--don't! They made me feel right at home and I wasn't ready to leave when it was over. The clinic was great, I learned a lot, and of course the island was incredible. I can't say enough good things about it!
The experience I gained in the different clinics will shape the type of therapist I become. Up till now, being a physical therapist was a VERY distant dream. Being back from Fukuji and Lum and taking classes this summer, this is the first time I have actually felt this dream was attainable.
Applicant Requirements
Applicants for the Spring or Fall Co-op must be enrolled in the DPT program.
Fukuji & Lum is now accepting applications.
If you are interested in applying for a Co-op with Fukuji & Lum Physical Therapy, please apply via the Fukuji and Lum job position in NUWorks: https://northeastern-csm.symplicity.com/students/?signin_tab=0
For more information or questions, please contact:
Mark Yanai, M.P.T.
NU Student Co-op Coordinator
[email protected]