Becky tells us about how she became interested in physical therapy, what she's most excited for with the co-op experience, and who inspires her the most.
What school did you attend in high school and what's your current college?
I'm originally from New Jersey and I attended Northern Valley Regional High School at Old Tappan. I continued my education and earned my undergraduate degree at Trinity College in Hartford, CT where I majored in Biology and minored in Religious studies. I also played DIII collegiate volleyball. Now I'm currently a post-baccalaureate student in the DPT program at Northeastern University.
What drew you to physical therapy?
My first exposure to physical therapy was when I was 16 years old and had a high ankle sprain injury. I was trying to return to sport in the best possible shape to prevent re-injury. I had a first-hand experience with the healing and strengthening process where I really felt the benefits of PT. I then wanted to gain more experience in the field, so I started to shadow multiple outpatient PTs where I saw other patients experience improvements in quality of life. From experiencing PT as a patient and working as an aide, I liked how the profession could help people feel better. I was also able to make personal connections with patients and I enjoyed hearing individual stories.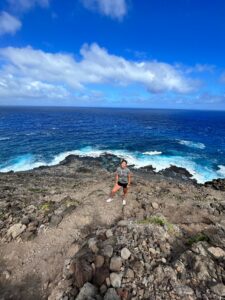 Why did you want to do your co-op in Hawaii?
I wanted to do my co-op in Hawaii because I wanted to experience learning is a different environment. I have lived and completed my education on the East coast all my life, so given this chance I wanted to travel away from home. I also heard many great things from past co-ops about having personal growth and thought a change of scenery and new exposures would be an amazing way to do the same. 
What has been your experience like so far?
My experience in Hawaii so far has been exciting and adventurous! We have done many hikes which include Manoa falls, Lulumahu falls, Maunawili falls, Kuliouou ridge, and Olomana first peak! I have seen some spectacular views of the island! We have also done some kayaking and relaxing at the beach to get as much sun as possible! I would say so far, the North Shore is my favorite part of the island with the beautiful beaches, food trucks, and the drive along the water!

What's the strangest thing that you've eaten since arriving?
The new food I've had since arriving is poi which is grounded taro root. I tried it from the Waiahole Poi Factory and the consistency was interesting, but the taste was not bad. It was not my favorite thing I've ever eaten, but I will try anything twice.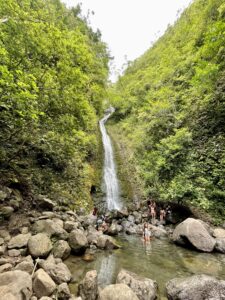 What is on your to-do list while here?
There are many other hikes and adventures on my to-do list while in Hawaii. The activity I'm most looking forward to is checking out the food scene in Oahu! I have not been able to do much of that, but I want to try all the local foods and some good restaurants! I am also looking forward to exploring Kualoa Ranch because I love the Jurassic Park movies and want to see where they filmed. I also plan on skydiving, swimming with sharks/turtles, and maybe take a surf lesson!
What kind of therapist do you hope to be?
I hope to be a therapist who is empathetic, dedicated, and creative! With patient care, I think it's important to show the patient you are listening and that you care. Going the extra mile for a patient and/or even coworker can go a long way. Also making exercises meaningful and relatable are key for successful outcomes. I have been enjoying the holistic approach that Fukuji & Lum follows and hope to carry that into my own future practice as well.
Who is your greatest influence in your life?
The greatest influences in my life are my parents. My mom has the biggest heart and will go the extra mile for people. She has shown me that being kind to others makes a difference. My dad is hard working and intelligent, but also very funny. He has taught me working smart, showing humility, and not taking life to seriously are ways to be successful in the future. My parents have so many great qualities and have raised me to strive to be the best I can be while also being responsible, empathetic, and able to persevere. I'm grateful to have them in my life as such amazing role models.