Introducing Kara
Meet Kara!
Continuing with our introductions of our Co-ops, we are happy to have Kara Dwyer as one of our PT students at our WORC and Aquatic sites. Like most Co-ops, Kara is well traveled and is not new to being immersed in a new culture. Read about her travels and what led her to our organization.
[one_half]
What school did you attend in high school and what's your current college?
I hail from Woodstock, Illinois, where I walked the halls of Woodstock High School (go Blue Streaks!) and now attend Northeastern University. 
[/one_half]
[one_half_last]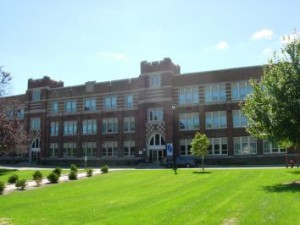 [/one_half_last]
What drew you to physical therapy?
I've always been interested in the human body, I've always been active, and find it incredibly fulfilling to help people. Put all of that in a blender and you get an aspiring PT. Also my mother is a PT so I've always been around it. Fun fact- my grandmother was as well, so I'll be a third generation PT!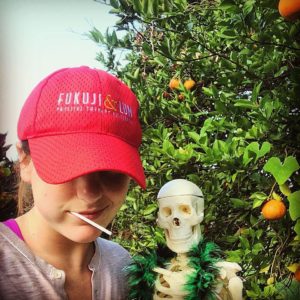 Why did you want to do your co-op in Hawaii?
I have a bit of a travel bug, passed on from parents who met while traveling the world, so at every opportunity I get to experience new people and places, I leap! It helps that Northeastern impresses experiential learning on all its students, and what better way to get experience and learn more about yourself and others than leaving your comfort zone. Fukuji & Lum also seemed like the kind of loving and open environment I would like to learn in.
What has been your experience like so far?
So far I've learned an incredible amount, as I haven't been in a physical therapy environment like Fukuji & Lum before. My clinical experience up to now mostly consists of working with children in a vastly different setting. I've had a wonderful time exploring Kailua and a little of Kaneohe and Honolulu, and everyone I have met are the most genuinely open and welcoming people. So far I've been getting around by bike, albeit a bike that is just a tad too small, but it is quite enjoyable. I've started adventuring into the island and ocean, and anticipate a lot more of that!
[one_half]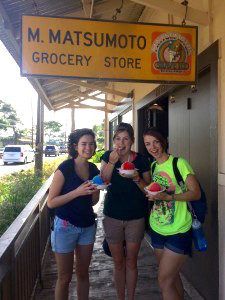 [/one_half]
[one_half_last]
What's the strangest thing that you've eaten since arriving?
We've been trying a lot of interesting fruit, like lilikoi, guava, longan. I would say the strangest thing i have been introduced to would be spam musubi, which was quite an experience and pretty good honestly!
What are your outside interests?
Well let's see now, I have a plethora of interests. At school I'm involved in a few theatre groups, I ref and play intramural sports: mostly volleyball and soccer, I've taken a few ASL courses, I'm involved in choir, I like exploring/adventuring, goofing off, and being a kid, although the last year I've spent a lot of time with my best friend- the library.
[/one_half_last]
What is on your to do list while here?
We've already started a "Hawaii bucket list" that seems to get longer every day- to experience and learn about the melting pot of Hawaiian cultures; explore mountains, waterfalls, and coastal hikes; scuba dive once or twice; skydive possibly; and do something to be more connected and involved in the community, maybe some sort of rec league, music class, or volunteering opportunities to give back. Also it is a goal of mine to start eating fish. I've always thought I didn't like any kind of fish, but I've been trying to expand my horizons in terms of food and it's going well!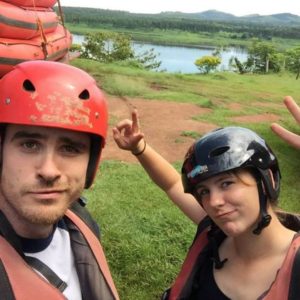 What kind of therapist do you hope to be?
I have yet to experience many of the environments and types of physical therapy there are, so I'm not sure yet how I see myself as a therapist. I do, however, hope to be able to instill confidence and joy in my patients as they work towards their goals.
Who is your greatest influence in your life?
I have so many very interesting, amazing, positive, eclectic, joyful, intelligent, open, serious, curious, loyal, driven, caring, and wonderful individuals in my life, from whom I try to emulate these certain characteristics. So I couldn't really pick out one person who has been influential to me in a large way, but give each of them credit for part of who I am today.