Celebrating Memorial Day
Memorial Day in America is a day when people remember and honor those who have fallen in service to their country. In Hawai'i, with its diverse population, traditions become easily adopted and assimilated into its rich cultural fabric. It is a custom for people in Hawai'i, on Memorial Day, to not only place flowers and offerings on gravesites of those who served their country, but to honor all loved ones who have passed on.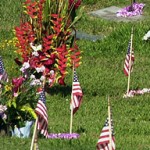 One famous Memorial Day tradition in Hawaii is the The Lantern Floating Ceremony, held at Ala Moana Beach Park. In 1999, the inaugural Lantern Floating Ceremony was held at Ke'ehi Lagoon on the south shore of O'ahu. In 2002, the ceremony was moved a few miles down the coast to Ala Moana Beach where it has been observed every year since.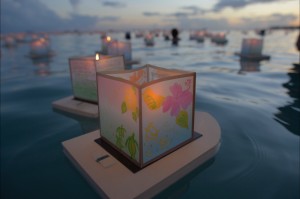 The Lantern Floating Ceremony brings together over 40,000 people on the beach, joined by thousands around the world via live streaming and telecast for an evening of honoring loved ones and generating collective hope toward the future. The ceremony is an opportunity where all can come together for a personal and collective moment of remembrance, reflection, and offering gratitude to those who have gone before us. It is a chance to be surrounded by the love, understanding, and support of others – even strangers. We are strengthened as a community as we reach out to support others and build understanding of our common values and experiences.
[one_half]
In remembering those who have recently passed, I think of Parker Moore. Parker, a student athlete at Linfield College in McMinnville, Oregon, was stabbed to death at a 7-Eleven convenience store across the street from his school last November. In a random act of violence, he was attacked by a 33 year-old male that had no known connection with him. The assailant returned to the store shortly after the attack and was shot to death by police officers at the scene.
[/one_half]
[one_half_last]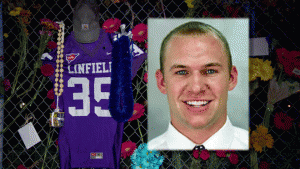 [/one_half_last]
Parker was a classmate and football teammate with my son, Kaleo. He was a sophomore who studied business management, played linebacker on the football team and was popular among the student body, acting as a resident advisor. The tragic incident occurred a day after the team's biggest win of the year: a conference clinching win over Pacific University. His death stunned the small community of McMinnville, a town where there wasn't a fatal shooting in almost ten years and almost 25 years involving a police officer.
Surprisingly, the Linfield football team banded together from the tragedy and went on an inspiring run through the Division III football playoffs. The team won against Chapman University then traveled to Belton, Texas were they upset the 2nd ranked University of Mary Hardin-Baylor. The following week they upset another top ten team, Widener University in Pennsylvania. Their run ended in the semifinals against the number one team in the nation, University of Wisconsin Whitewater, in a thrilling 20-14 game.
On May 9th, the first "Parker's Run" was held at Evergreen Aviation & Space Museum.  The 5K run was a fundraiser put together by Linfield students and Linfield's Economics Department, with all of its proceeds going to the Parker Moore Memorial Scholarship Fund. There was also a tree ceremony on campus where head football coach, Joe Smith, read a remembrance letter he wrote about Parker on the eve of the dedication. Thank you to ADvantage Catdome for posting this emotional, moving letter.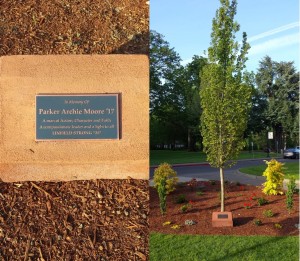 Memorial Day is a time when we can all share in the loss of loved ones and reach out in the spirit of creating harmony to support one another. Flowers, floating lanterns and a 5K run are all remarkable and memorable ways to honor and remember our loved ones. It's traditions like these that we, as a family and a nation can look forward to celebrating each year.