Happy Spring Break!
Spring Break Fun
This week, thousands of college students will flock down to Fort Lauderdale, Daytona Beach, Lake Havasu and Acapulco Beach for an annual gathering of fun, sun, alcohol, and shenanigans. Where did this craziness originate?
According to a TIME Magazine article in 2009, it started with the Greeks and Romans, when they celebrated the arrival of spring as a time of fertility and awakening (read the article here). More recently, the tradition of going south to Florida started when college coaches held an annual gathering at the Casino Pool in Fort Lauderdale.
[one_half]
The first Olympic-sized pool in Florida held the annual competition which began in 1938 and brought in over 300 competitors yearly. This continued to gain in popularity and in 1959 inspired the making of the movie, Where the Boys Are, which starred Connie Francis and George Hamilton.
By the 70s and 80s, the tradition of college students flocking to Florida became commercialized and MTV launched its first televised special from Daytona Beach, which still continues today. Spring break has spread beyond the Florida beaches and is celebrated in just about anywhere a beach can be found.
[/one_half]
[one_half_last]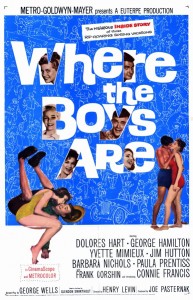 [/one_half_last]
At F&L, we celebrate Spring Break in our own, unique way. The past week we have themed dress up days, where employees AND patients are encouraged to celebrate this "break" from the status quo. Pajama, whacky sock, sports and favorite musician day allowed us to enjoy a little buzz in our clinics this week. The anticipation of seeing what each of us would wear and watching the reaction of our patients are priceless.
This craziness will continue this week as we celebrate grandparents, rainbows, St. Patrick, bacon, and retro days. These activities are a part of our culture and our mission to "deliver fun and happiness". At F&L, we practice creating an environment that generates joy, happiness, gratitude and fun. We want our patients to feel as if they are among family, albeit a whack one.
Feel free to join us in dressing up, we love it when patients participate. Keep track of our daily activities via Facebook and Instagram and let us know what you think.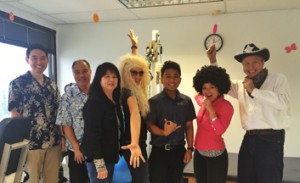 References
A Brief History of Spring Break. (2009, March 30). In TIME Magazine. Retrieved 19:02, March 15, 2015, from http://content.time.com/time/nation/article/0,8599,1888317,00.html
Where the Boys Are. (2015, March 11). In Wikipedia, The Free Encyclopedia. Retrieved 19:02, March 15, 2015, from http://en.wikipedia.org/w/index.php?title=Where_the_Boys_Are&oldid=650967306
Connie Francis. (2015, March 14). In Wikipedia, The Free Encyclopedia. Retrieved 19:08, March 15, 2015, from http://en.wikipedia.org/w/index.php?title=Connie_Francis&oldid=651385004
George Hamilton (actor). (2015, March 6). In Wikipedia, The Free Encyclopedia. Retrieved 19:08, March 15, 2015, from http://en.wikipedia.org/w/index.php?title=George_Hamilton_(actor)&oldid=650221082
MTV. (2015, March 14). In Wikipedia, The Free Encyclopedia. Retrieved 19:31, March 15, 2015, from http://en.wikipedia.org/w/index.php?title=MTV&oldid=651391806