Our Northeastern Co-ops have been with our organization since July, working diligently in our clinics while supporting our therapists in treating our patients. Since being exposed to the "island-style" life, they have been going on different adventures every weekend and are really making the most of their stay here. Of the four Co-ops this fall semester, we have one more student to introduce. Let's meet Justin and find out why he wants to become a physical therapist, because we know he'll make a great one in the near future!
Meet Justin
[one_third]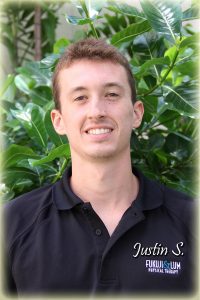 [/one_third]
[two_third_last]
What school did you attend in high school and what's your current college?
I went to The Morgan School in Clinton, CT. I currently go to Northeastern University in Boston, MA.
What drew you to PT?
I've always wanted to have a career that combined my love of sports with helping other people. PT is also a job where there is plenty of room for progression. Treatment techniques are always evolving, which gives us something to look forward to. [/two_third_last]
Why did you want to do your coop in Hawaii?
I want to travel to every part of the world and this is just the first step. I've been on one Caribbean cruise but that is the farthest I had been from home. Experiencing different ways of life is a great opportunity and I couldn't pass it up. The aquatic program also drew my interest to Fukuji & Lum. I have already seen first hand the benefits of being in the pool compared to dry land.
What is the strangest thing you have eaten since arriving?
I wouldn't call them strange, but I've had many poke bowls and musubis already. I'd eat a poke bowl every day if I could.
What is on your to do list while here?
I want to learn a lot- about both physical therapy and Hawaiian culture. I also would like to spend as much time at the beach as possible and do all the best hikes the island has to offer.
[one_half]
What are your outside interests?
I like to watch and play many different sports. I'm a huge Boston sports fan- Patriots, Celtics, and Red Sox all the way! I enjoy playing basketball and ultimate frisbee and recently got into triathlons. [/one_half]
[one_half_last]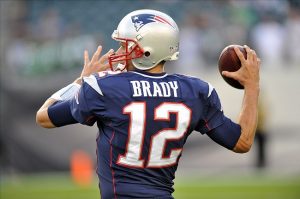 [/one_half_last]
What kind of therapist do you hope to be?
I hope to be a successful and effective therapist. The dream job would be working for a professional sports team. I'm also interested in owning my own place someday. I want to provide all types of alternative treatments that may not be available at other physical therapy places. Incorporating physical therapists, athletic trainers, and nutritionists into one team-oriented area seems like the best environment for maximizing the body's potential. 
Who is your greatest influence in your life?
Everyone we meet somehow becomes an influence in our lives, so it would be impossible to choose one. My parents have to be at the top of the list for how hard they work and how much they push me to be my best. I've had lots of great teachers and friends that keep me on the right track and I'm thankful for all of them.