My Co-op Experience in Hawaii – Ashley
Guest Blogger: Ashley – Former Co-op student from Northeastern University
My months in Hawaii were some of the best months of my life. While there I was able to meet extraordinary people, try things I've always wanted to, and learn so much. Working at Fukuji and Lum in particular was life changing. The co-workers and patients, and even my fellow co-ops, are all amazing people, and I am a better person for having met them.
My experience working at the front office showed me how to be patient (it's a pun, get it?) and showed me another side of the job, however, working one on one with patients was the best part. I loved getting to know all of the patients and their stories.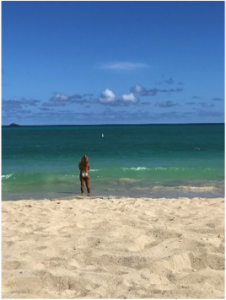 It was about more than just getting them better, I was able to form bonds with each and every one of them. I worked with all sorts of populations from geriatric, to work injuries, to post stroke patients. The variety of people I got to meet was incredible and taught me so much. I got really close to some patients and I didn't know the bonds that I could have with some of these people, which made leaving so hard. From having a patient cook me Portuguese bean soup, to hearing all about someone's strife and triumph, I am a better person for having met each and everyone one of them.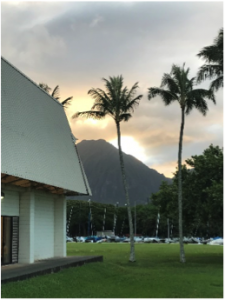 Working at Fukuji and Lum was like no other job I ever had. Never had I experienced such love and respect from co-workers. I feel as though I got to know every single person, from the pool to the WORC and LA clinics. My co-workers were one of the best parts of my experience. Who else's bosses would take them a half mile into the clouds at 2 in the morning? Being invited over for holidays to the island Hyland's house really showed me the kind of people I now had in my life and I am forever grateful for that. Jocelyn even cooked animal carcass because she loves us so much! It was like having a home away from home. Even now I still get texts and surprise packages with Hawaiian goodies from Rachel, wondering how I am doing or just because she is so thoughtful. 
Janie was like my Hawaiian mom who always knew how to make me laugh and always had something cool to show me about PT. Janie, if you're reading this thanks for the massage by the way, it was the best hour of my life. The love and care Jocelyn, Rachel, Jaime, Janie, Jesse, Tasha, Mark, Stephanie and Nicole (to name a few!) gave to their patients every day at work showed me what patient care was supposed to be like, and I strive to use what I learned here every day. I miss seeing their smiling faces and all the laughs they brought me.
Another one of my favorite parts about Hawaii was the island itself. I love beaches and weather above 30 degrees, so when I saw Hawaii as an option for my co-op I was ecstatic, and knew right away this was a once in a lifetime experience that I didn't want to miss out on. Having my three amigos with me made the experience even better. I have no idea how I would have found not one, but two beaters, learned to hula dance(ish), find our missing dog a million times, or possibly have so much fun at Costco, without them. There aren't three other people I rather have been with except maybe Jesus, my grandma, and John Lennon, if were playing that game.
It was heartbreaking to leave paradise: the ocean, the palm trees, the sting of Kailua's fine sand pelting you in the face as you tried to soak up the sun, but it was even harder to leave all the incredible people that changed my life. That certainly wasn't the last time I'll be in Hawaii so for now I'll say, A Hui Ho!