A Reflection on the Co-Op Experience
Alice shares a few highlights from her 6-month experience working with us at F&L.
What was the one experience that you think was the highlight of the experience?
Two experiences outside of the clinic that were highlights of my time in Hawaii were skydiving, as well as learning to surf. I never thought I would actually skydive but as our landlord Wendy said when we arrived, "Never say no in Hawaii". There is something about the islands that truly gave me a sense of adventure and I did not want to leave any place unexplored. I was tremendously pushed out of my comfort zone during these six months in so many ways and skydiving was the perfect example. Surfing was the activity that filled my void since retiring from competitive figure skating during the pandemic. I loved how I quickly saw my return on investment from practice to skill execution. The biggest difference between surfing and skating is that frozen water is predictable except for when it's slippery. But waves in the open ocean are the most unpredictable thing I have ever dealt with, plus you can track them on apps and think you know what you're getting into but you never truly know until you're in it. I feel like this is a very good metaphor for life and a lesson that I needed to learn outside of competitive sport.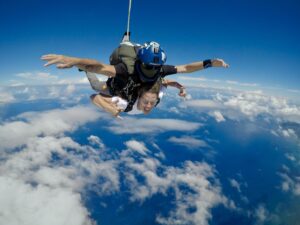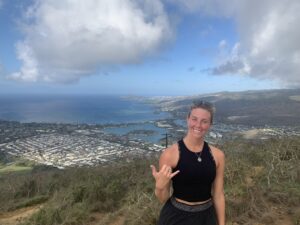 One highlight from my experiences in the clinic was truly the people. It may sound cliche but the clinic really became my 'ohana. And I'm not a crier but I cried on my last day because I was just so emotional about how I truly found people who were as committed to learning throughout their career as I feel like I want to be. No matter what was going on they were there day in and day out to show up for you as a person as well as a therapist for their profession and career. I will never forget my time at Fukuji and Lum and I hope to be back at some point.
What was the most surprising thing that you did not expect to learn?
The most surprising thing that I learned that I did not expect to was how integral interpersonal skills are two physical therapy and the level of complexity that the human body can offer. Often in school interpersonal skills and psychosocial aspects of health can be viewed as fluff classes however I now view them very differently. All of the therapists are very knowledgeable and were always willing to share their perspective and answer questions regarding this.
If you had to choose one word about your experience, what word would you choose?
Community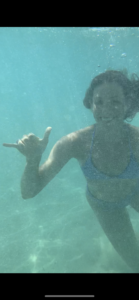 From this experience, what intentions will you have going forward with your career?
Moving forward in my career my intensions will be to always do my best to listen to my patients and treat them as I would want to be treated. There is much more to a person than just their injury. Creating relationships based on respect with patients I believe can lend to higher satisfaction and their life long commitment to wellness for themselves.