A Reflection on the Co-Op Experience
Six months flew by and Olivia tells us how her experience in Hawaii will impact her long-term career in physical therapy. 
Aloha 🙂 I'm back on the blog, but from halfway across the globe. It has been a month and a few days since I left the best place on earth... and I miss it so, so much. Six months flew by incredibly fast, but I will remember my time with so much love and gratitude.
Who had the most impact on you during your time here?
I can't pick one person. To say that I was impacted by every single person I met here, would be an understatement. First, I'll start with my Kailua and Aqua crew. The clinicians and staff I worked with had an amazing depth of knowledge they shared with me, and I learned so much not only about physical therapy, but about life, relationships, confidence, spirituality, and connection.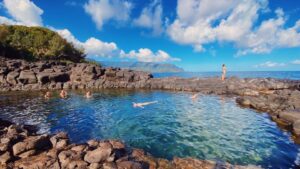 I am so thankful to have learned from people I look up to, and now call them 'ohana. I learned a lot from the patients I worked with here too. They gave me great recommendations on how to have fun in Hawaii and what foods to try (shoutout Redfish poke bar). More importantly, they showed me that however big or small you help someone doesn't matter, what matters is that you are trying to give to something bigger than you. So, I can make a mosaic from what I've learned from everyone that I met here and make a beautiful piece of art with it.
If you had to choose one word about your experience, what word would you choose?
Presence. There's so much depth in this word for me. First, living on aloha time speaks for itself. Not that life is slower in Hawaii, but everyone is more ~present~, and they are deliberate with how they spend their time. One of my favorite things about Hawaii was that the people won't avoid eye contact with you when you pass them on the street, they will smile and wave. Just a mere five seconds of human connection made such a difference in my day. Second, the environment brings you down to earth and makes you see life in abundance. From sunrise to sunset and everything in between, there were so
many creations to be grateful to witness. My favorite memories were made with my friends as we chased the sun and made it out to China Walls to spend the last few minutes with the sun that day, and so many people had the same idea. It was like we were in an outdoor movie theatre that played a golden sun set, and everyone felt present in it. So, not only does your presence matter to those around you, but you feel present in what's happening around you.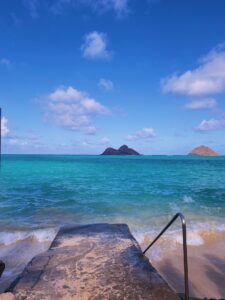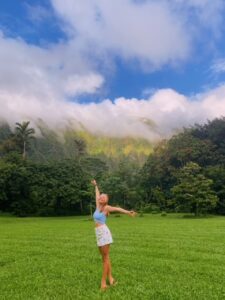 From this experience, what intentions will you have going forward with your career?
I intend to take a whole body, and whole person approach going forward with my physical therapy career. I think this makes a huge difference in practice, as it allows you to evaluate a bigger picture and give rise to all the parts of someone that make them, them. This was my favorite foundational belief of F&L, and I will take it with me in my soon to be physical therapy career.
Best six months ever!!
Mahalo nui loa,
Olivia