Aloha to Our Spring NEU Co-Op Students!
We asked Annie what she looks forward to experiencing while in Hawaii and who her greatest influences are in life. She also explains why she was drawn to the PT profession. 
What school did you attend in high school and what's your current college?
Hey everyone! My name is Annie, and I am from Fremont, CA in the SF Bay Area. I went to Mission San Jose High School, where I swam and played water polo, and I'm currently in my fourth year of Northeastern's 6-year DPT program. Never in my wildest dreams did I imagine I would be living and working in Hawaii for 6 months. It has only been a few weeks, but I am thoroughly enjoying my time at the LA and Honolulu clinics and Kokokahi pool. 
What drew you to physical therapy? - What kind of therapist do you hope to be?
When I was applying to colleges, I was so unsure about what I wanted to do for my future career. All I knew was that I wanted to be involved in the health sciences somehow. During this time, my swim coach introduced me to the world of physical therapy and movement science, which piqued my interest. So when Northeastern offered me the opportunity to be a part of their 6-year DPT program, I took a leap of faith (I didn't even visit or tour the campus!) and accepted, and I am so glad I did. Going through the curriculum and meeting all the amazing PT faculty over the years have really solidified my passion for the job. There are few other professions where you get to interact with people at the same level as physical therapists, while helping them live their healthiest lives with just movement and exercise. You are able to build lifelong relationships with patients, and really make a difference in someone's quality of life. There is also so much more to PT than just sports! After working with stroke patients at my last co-op, I have an interest in neurology, but I would like to explore pelvic health as well as aquatic therapy too. I don't know what the future holds for me, whether it be in the outpatient or inpatient setting, but wherever I am, I hope to be a therapist that treats holistically, is creative, compassionate, and forever learning.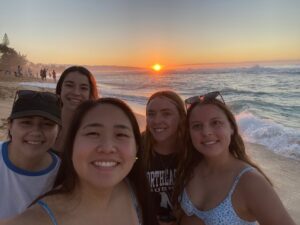 Why did you want to do your co-op in Hawaii?
I have always loved traveling and learning about different cultures, so when I found out there was a co-op in Hawaii, it seemed like a no-brainer. It also didn't hurt that I would be skipping the cold Boston winter! And while Boston has been a wonderful city to live in the past couple years, I felt like I was getting too comfortable, so I wanted an experience where I would be challenged both in and out of the clinic. Before coming here, my only PT experience was in the inpatient setting, so when I was applying for my second co-op, I knew I wanted to expand my horizons to outpatient physical therapy. Fukuji and Lum seemed like that perfect place.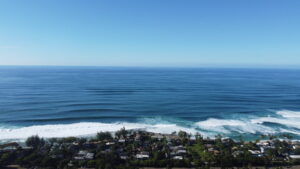 What has been your experience like so far? - What is on your to-do list while here?
I have been loving every minute of my time here, and I am beyond grateful to have the opportunity to be a part of this beautiful culture. The staff at Fukuji and Lum have been so welcoming and understanding of all the mistakes I have made while learning the ropes in the clinic. They have shown me much kindness and go out of their way to teach me new techniques, special tests, and various exercises in their spare time. More than that, they have set an example for what patient care should be. It isn't just about treating a patient's physical injury, but also caring for their mental and emotional health. 
Outside of the clinic, the other co-ops and I have been able to hike the Lanikai pillboxes at sunrise, see the Manoa falls, tan on the various beaches along the North Shore, and watch people catch the big waves at Pipeline. I have also never eaten this much poke in my life, but I am definitely not mad about it. By the end of my time here, I'd love to have learned how to surf, go scuba diving, visit Pearl Harbor, and swim out to the Mokes. And being the big foodie that I am, I have a huge list of dishes I want to try while I'm here like poi, laulau, and loco moco. Every day, I am learning about a new hike or food spot to try out from various patients and staff. My to-do list just keeps getting longer and longer! I guess that means I'll have to come back if I don't get to it all!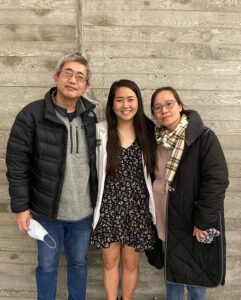 Who is your greatest influence in your life?
There have been many people that have shaped me into the person I am today, but my parents have had the greatest influence in my life. They are my biggest cheerleaders and unconditional supporters; I owe many of my successes to them. They immigrated to the US from Taiwan and had to learn a completely different culture, language, and way of living. They have worked so hard and given up a lot for me and my sister to have the best life possible. I am inspired by them every day to work hard, be kind, and always try my best. I hope to make them proud and incorporate values they have instilled in me to be the best physical therapist possible for my patients.