Happy Birthday, APTA!
Our own Art Lum recounts the Centennial Celebration of the American Physical Therapy Association, an event that took place in September to commemorate the community and service of physical therapists across the country.
Oh what a feeling.  Happy APTA 100th birthday.  My 66th birthday. An uplifting spirit. An improved purpose. A better delivery of physical therapy.  A stronger relationship. A healthier world.  Club 66. 
Arrival on Thursday afternoon. Hawaii to Seattle to Ronald Reagan Washington National Airport to Georgetown, DC.
It is Friday; ready, set, go. Metro connection - blue line.   From my home base in Georgetown (Foggy Bottom station) to Metro Center, transfer to the red line to Woodley Park-Zoo/Adams Morgan and a ten minute walk to headquarters at the Omni Sheraton. 
The bus shuttle to the NEW APTA headquarters in Alexandria, Virginia.  Our mother ship.  Pausing at Arlington National Cemetery and meandering along the Potomac River.  The seven story spectacular sparkled among the community of office buildings.  Nearby, a soon to be built Amazon mega structure within a birds eye view.   Upon entry, like Volcano National Park on Hawai'i the Big Island, the energy flowed to near eruption.  Crystal clean, spotless and pristine. A jewel!  President Sharon Dunn and past presidents Marilyn Moffat, Paul Rockar Jr, Jan Richarson et al were there along with APTA directors and staff.  They greeted us from the curbside, at the door, on every floor and living space.  The walls were decorated with inspiring messages and timeless masterpieces. A walk down memory lane and into the future. The mighty community wall of donors draped the corridor. My colleagues, doctored up with badges of advanced degrees, specialist designations and House of Delegate tags graced each square foot.   An added treat was the unveiling of the Catherine Worthingham Room presented by the Stanford PT Alumni (I was one of five on the planning committee). Aloha reigned.  A housewarming party in a new domain and era.  I was awestruck.  What a day!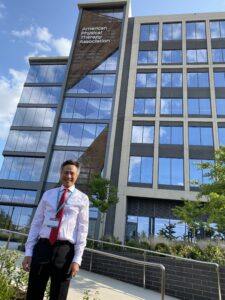 Black tie and all, we congregated at the Washington National Cathedral that evening.  A string quartet and open bar welcomed all.  The glitter and night lights lit up the sky.  It was time to congregate together under one roof and offer gratitude, praise and promise for the years past, current and future.  As President Sharon Dunn delivered the welcome message, 'How appropriate for us to be together at church". A warmup to what was to come - House of delegates, President's forum and centennial scholar programming.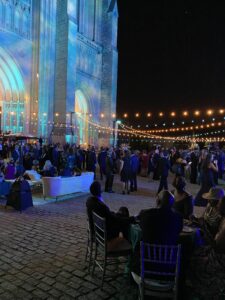 Saturday was a break day for me.  Breakfast n' coffee with ham, cheese and a sunny side egg over a crepe. Customers sat physically distanced in an outdoor patio.  A trip to the art gallery and bookstore.  Off to Trader Joe's for bottled water, chocolate covered almonds and fresh crisp apples.  A restful time out to pause and put up your feet. 
Sunday's tour took me on the metro back to the Omni for a garden reception before the bus shuttle drove to the John F. Kennedy Center for the Performing Arts.   This indeed was special.  Seizing the moment of witnessing live the 52nd Mary McMillan lecture.  All roads leading to INNOVATION.  Stories  across the U.S.A. with award recipient Colleen Kigin, PT, DPT, MS, MPA, FAPTA at helm leading the way.  A preview of what was to come next year with the announcement and intro of the John H.P. Maley Lecture Award to Sue Whitney. PT, DPT, PhD, FAPTA.(We met for lunch at the APTA headquarters on Friday)
One of Hawai'i's own, Dr. Marilyn Miller, received the Lucy Blair Service Award(contributions to APTA that are recognized of exceptional quality)  I was honored to nominate Dr. Miller for the prestigious award.  How proud and what pride to view remarkable colleagues and cheer on a parade of talented, gifted and committed 'premier professionals'.   Inspired to say the least having stood next to the bust of John F. Kennedy just an hour ago.  Breathtaking and amazing.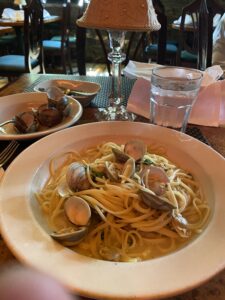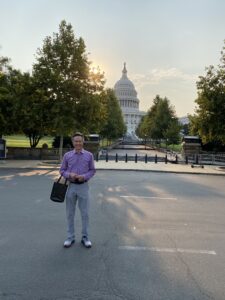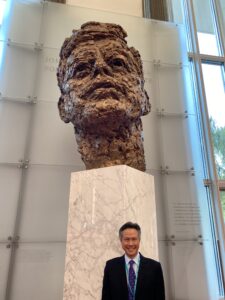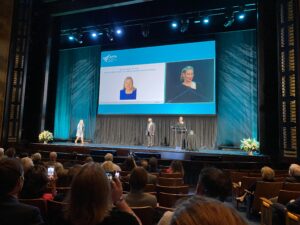 Monday morning turned out to be quick stops for sightseeing.  A quick trip and wave to the Capitol.  Lunch at Filomena's, a famous Italian restaurant, of fresh medium size clams over pasta.  Teams then huddled back at the Omni in preparation for Advocacy training.  A pep rally for intense training of etiquette, legislation bills and lokahi(unity).  All fifty states were represented.  Making it happen as one team, one spoken word with a unified voice.  The crafting of five bills.  Keeping it concise, manageable and 'just right' for the game plan.
Tuesday was all about execution and a wonderful time of meet, greet and talking story with the congressional offices of Senator Mazie Hirono, Senator Brian Schatz and Representative Kaiali'i Kahele.  Mission accomplished. 
On Wednesday, I arrived at the Foggy Bottom station for the 5:45am metro run to the Ronald Reagan Washington National Airport and arrived in Honolulu at 5:15pm..  Safe and pleased that the antigen tests proved negative. Joyful for a remarkable SAFE journey coast to coast.  Time came to a pause as I reflected on my professional career and an unforgettable birthday party.  
One moment in time celebrated over Centennial Celebration Weekend in D.C..
In celebration of APTA's centennial and club 66 birthday. 
A wonder filled memory of people, places, professional journeys and life stories. 
Impacting each of our lives and our patient lives. 
Lucky we live as Physical Therapists, Physical Therapist Assistants and F&L. 
Lucky to shout out  Physical Therapy and Aloha. 
Blessed with F&L and Family.
Lucky we live Hawaii. 
Mahalo piha(heartfelt gratitude),
Art Lum, PT