NU Health Science Co-op Joins F&L
Let's meet Stevie, F&L's fifth and final NU Co-op for the fall semester. Her co-op with us is a very special one, because it is the first time we have taken a Health Science student. Stevie works as a front office receptionist at our WORC site and pool.
What school did you attend in high school and what's your current college?
I went to Eastport South Manor Jr./Sr. High School in Manorville, NY. I currently attend college at Northeastern University in Boston, MA.
[one_half]
What drew your interest to the Health Science field?
I was interested in Health Science after I heard about how well the major balances hard science and social policy courses. Since I was a kid I wanted to be a doctor so I became a health science major on the pre-med track after my freshman year of college. Health Science allows me to take all of my pre-med courses but everything I learn inside and outside my major ties in to what I'm interested in as a future health care professional. Health Science is the perfect niche for me. [/one_half]
[one_half_last]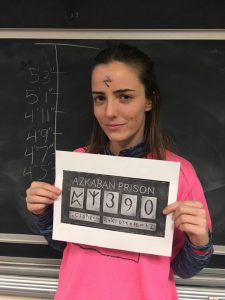 [/one_half_last]
Why did you want to do your co-op in Hawaii?
I wanted my co-op to be in Hawaii because I wanted to live somewhere in a culture completely different than my own. I am used to a faster-paced lifestyle working in New York and I wanted to learn in a slowed down environment like in Hawaii. Also, I've never been to Hawaii so being so far away from home has made me more independent.
What has been your experience like so far?
My experience so far has been wonderful. I swear the nicest people ever are the ones that work at Fukuji and Lum Physical Therapy. Every day I am happy to come to work even with a 10 mile commute round-trip on my bike. I wouldn't have it any other way.
What's the strangest thing that you've eaten since arriving?
I wouldn't consider it strange but I had manapua. I've never had a dessert with meat in it before.

What is on your to do list while here?
I want to learn all of our patients names. I think it's important to connect to every single person I can during my experience in Hawaii.
After majoring in Health Sciences, what kind of career would you like to pursue?
After I graduate with my B.S. in Health Science I want to go to medical school to get my MD. I don't know what kind of doctor I want to be but I am mostly interested in obstetrics and gynecology.

Who is your greatest influence in your life?
My dad is by far my best friend and greatest influence in my life. I am where I am now because of him. I am going to be the best person I can be for him.