Olympic Lifting – "DOING IT RIGHT!"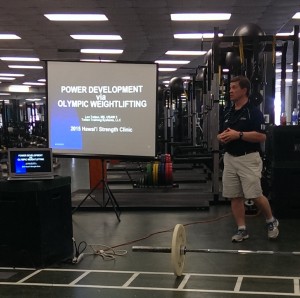 I'M BOLC!
As part of the 2015 UH Strength Coaches Clinic, Leo Totten, of  Totten Training Systems, spoke about Power Development with Olympic style weightlifting. Totten is an expert in weightlifting, with over 20 years of coaching at the Olympic, Pan American, and World Championship level.

Totten Training is located in Littleston, PA. The major focus of Totten Training Systems is to provide the best in Olympic style lift training in conjunction with other modes of strength and power training for weightlifters and all athletes. Totten created this system after many years in the field as an athlete, coach, teacher and athletic administrator. He has worked with athletes and coaches from the high school level, to the collegiate level and even national and international level, working with individuals as well as teams. As a well-known speaker and author with has a strong reputation in the strength and conditioning field, Totten is one of most influential strength coaches of all time. His resume is full of achievements in lifting:
Recognized as one of the 65 most influential Strength Coaches – kickbacklife.com
Senior International Coach for USA Weightlifting (Level 5)
Head Coach, East Coast Gold Weightlifting Team

8 time National Men's Team
6 time National Women's Team Champions

President, WerkSan Barbells, 2005-2012
Over 20 years as Olympic weightlifting coach
Over 20 years as clinician for USA Weightlifting
Over 20 years training High School / College elite athletes
Over 30 years in Physical Education and Athletic Administration
Two Olympic Teams
Three Pan Am Teams
Five World Championship Teams
USA Weightlifting Coaching Excellence Award, 2005
[one_half]
At the UH clinic, Totten gave a hands-on demonstration on the Clean, one of the three recognized Olympic lifts. He spoke about the benefits of lifting and how the skills transfer to sports that require strength and power, with the emphasis on power.
Following the clinic, Totten offered a class in Beginning Olympic Lifting Course (BOLC), which included instructions on the three lifts: Clean, Snatch and the Jerk. Check out this video on the clean:
[/one_half]
[one_half_last]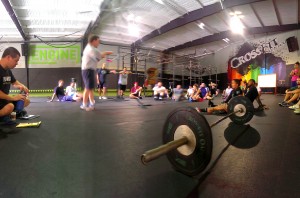 [/one_half_last]
[one_half]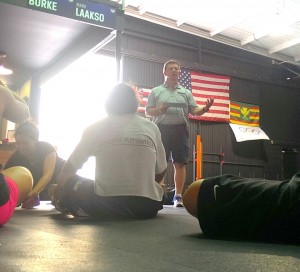 [/one_half]
[one_half_last]
About 35 people of various backgrounds, high school and college coaches, athletic trainers, and physical therapists attended this eight-hour class at Crossfit Oahu. Totten took us through each of the lifts from set-up to finish. The class was very detailed as he dissected each lift step by step from the floor to the receiving position. He gave great tips on training and improving at each of the key positions.
[/one_half_last]
I had signed up for the clinic with great apprehension. I knew very little about Olympic style lifting other than it being different at the receiving position. My feelings were heightened when I saw that most of the other attendees were coaches and looked more the part. I felt a little better when a fellow colleague (physical therapist) showed up and we were able to learn together, sharing common thoughts about how we would apply these new lifting techniques to physical therapy. As a therapist that works mainly with injured workers, I noticed key body mechanics in the lifts that would assist in generating the necessary power to lift and manipulate heavy objects. I also felt that training with a barbell would be another great instrument to use for patients and personal training clients.
I was given a BOLC certification for completing the course, which allows me to begin teaching the lifts I learned. It by no means makes me a knowledgeable coach like Totten, but it's a good starting point. He is a fantastic coach and his teaching style is methodical and systematic. He has great anecdotal stories that kept all of us interested at all times.
Despite my original fear, I was able to learn a great deal, meet new people, and pick up new skills. By the end of the day, I probably lifted a barbell a hundred times and I sure felt it the next day. But the soreness in my muscles were a great reminder of the hard work I put in and new skills that I gained.
Many thanks to Leo Totten, Tommy Heffernan, and Hank McDonald for putting the class together. And thanks to Crossfit Oahu for hosting it.
For more information on Totten Training Systems, email Leo Totten at info@tottentraining.com.