Warm Welcome to Our Fall NEU PT Students
Aloha! How's it!? I'm Olivia, I'm originally from Guilford, Connecticut and go to Northeastern University  to achieve my Doctor of Physical Therapy degree. I have the pleasure of completing my co-op at Fukuji  and Lum so I will be living it up in Hawaii for six months! I am so grateful to have the opportunity to  prepare for my career in such an enriching and loving environment surrounded by such welcoming  people that I will be able to call my Ohana. My fellow students and I were told a mantra that we cannot say no during our time out here, so I'm stoked to see whatever Hawaii will throw my way. But please, no  more cockroaches! 
What drew you to physical therapy? What kind of therapist do you hope to be?
Back in high school, when I was choosing a major for my undergraduate university, I knew in my heart  that I wanted to go into the medical field and be a physical therapist. The profession upholds such core  values that I wholeheartedly believe in. I have always been fond of the phrase and way of living that  exercise is medicine. Our bodies are miracles, and it's only right that we treat ourselves with the best  self-love and self-care. My favorite quote is that "our biggest commitment must always be to ourselves."  I think it is wonderful and so humbling that physical therapy allows me to be an influence for someone  else to help care for and commit to themselves. I hope to be the type of therapist that will inspire my  patients to prioritize their health and view their body as strong, capable, and most importantly, resilient.  I treasure how vulnerable patient care can be, and I hope to be a trustworthy and uplifting guide for all  that will let me. I believe I will be able to cultivate the dream I have, and my experience at Fukuji and  Lum will prepare me to accomplish all my goals.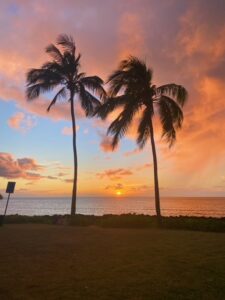 Why did you want to do your co-op in Hawaii? What has been your experience like so far?
I think this answer is pretty self-explanatory. I mean, it's Hawaii! But what really drew me to fulfill my  co-op in Hawaii was the Fukuji and Lum ohana and their values. Through research and communication  from past co-op students, I was told how this experience is life changing. The physical therapists will  challenge me and expect me to step out of my comfort zone to ultimately make me think like a clinician  and speak with conviction. After my interview, I knew in my heart that I was destined to come to Hawaii  and not only grow professionally, but personally. In the past month I have been here, that has been the  ultimate truth. I have been challenged in the best way possible, and truly feel like each day has been fulfilled physically, emotionally, and spiritually. I am so excited to see what else Hawaii and Fukuji and  Lum can teach me in the next five months I am here. 
What is on your to-do list while here? 
While I'm here, I hope to gain more confidence with my clinical skills and learn something from every  person I come into contact with. Furthermore, I hope to experience all of Earth's wonderful creations while I am in this magical place. From swimming, surfing, cliff jumping, hiking, going to farmer's markets,  and basking in the sun, I want to leave Hawaii with no regrets. Maybe I'll even be talked into skydiving. This environment has made me feel so connected to the Earth and feel like I am home. There must be  something in the water 🙂 
Mahalo, be well <3  
Olivia