"Leading yoga is my gift to the Fukuji & Lum ohana… I feel like the least I can do is offer that to the people who I love, that I work with."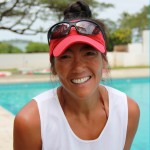 Jocelyn Shiro has been with Fukuji & Lum as an aquatic physical therapist since her arrival on the island nearly 5 years ago. She has been the company's resident yogi, ray of sunshine, and dancing queen ever since. Before spotlighting Jocelyn, not only did I want to interview her, but I found it important to interview those who know her best. When asked to describe Joce in one word, the staff immediately answered with adjectives that reflect how she has impacted them. Some of the answers I received were: joyful, loving, compassionate, wise, kind hearted, luminous. It is clear from these characterizations how much love and light Jocelyn brings to F&L. So how has she managed to continue sharing this love and light while clinics are closed and stay at home orders are in place?
"I'm not one to be idle." Although the world may be on pause, Jocelyn doesn't allow her life to be halted. She fills the quarantine weeks with full days that keep her carrying on. With the shift from normal work days to social distancing, came the emergence of new rituals. Since the closure of clinics on March 18, Jocelyn has not missed one sunrise. Every morning, she wakes up before the sun to start her day with vitality. "The metaphor to sunrise is a new day.. Start over. Rest. Let go of anything that was getting you down yesterday because today is a new day." A new beginning at the start of each day makes it easier to move forward despite set-backs that may have been weighing heavy the day before. When beach activity was prohibited and her sunrise walks were compromised, Jocelyn did not give up her ritual, she simply adapted it. She substituted morning walks for sunrise swims. The ritual was not lost. The sunrise streak remains alive… just now with an extra sweatshirt to warm back up before yoga at 8.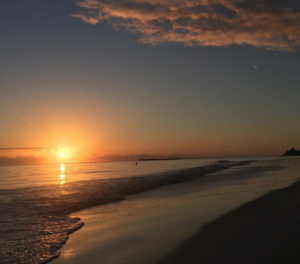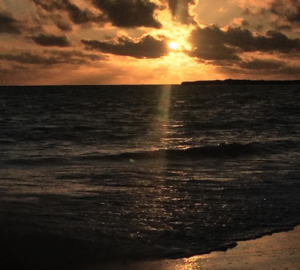 This is just the beginning of a day in the life forJocelyn. After entering her day with new energy, she goes to the W.O.R.C. clinic each week day to lead the company in an hour long yoga session via the "Zoom" video chat platform. With yoga sculpt three days of week and yoga flow on the other two, Jocelyn provides a way for staff to continue a movement practice despite the closure and closure of fitness studios. She reflects on her previous F&L yoga sessions, once a quarter or for special events. Collaborating with the Culture Club Living Tribe, Jocelyn has transformed Zoom yoga into an everyday ritual where staff can come together for a practice of movement and spirituality.
More and more of us tune in each morning to join Jocelyn in her sculpt and flow, some of us returning to a familiar practice, and others giving yoga a chance for the first time. For Joce, yoga is a life practice that is part of her life everyday. She remembers that it was not always this way, however. Before arriving here on Oahu 5 years ago, Jocelyn was a professional dancer who was dedicated to her intense and demanding profession, committed to this movement practice of dance. Yoga did not resonate when she dabbled it in at different times earlier in life. "I wasn't ready to go inward." During her years here on Oahu, yoga has re-entered her life at the right time. She explains that initially yoga was a way to stay active and physically fit, until realizing that it was much more than that. "I started going for the physical benefits of strength and stability … but then I realized the more I went, the more I felt good inside my mind … more calm, less stressed. Those benefits came to me on the side, but now I do yoga for those benefits primarily and the physical benefits are the side." As I listened to Jocelyn describe these ways in which yoga has impacted her life, I couldn't help but think: this tranquility and reduced stress is exactly what we are all searching for in these times of uncertainty.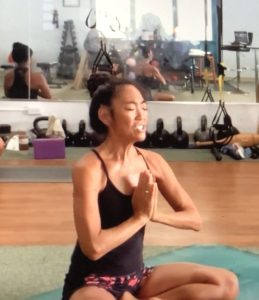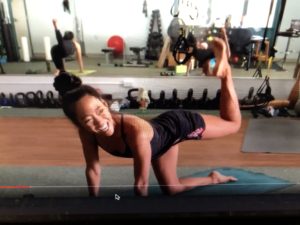 At the start of our flow today, Jocelyn offered the intention of perseverance and strength. More things we are searching for. So what is an intention? Well, there is not just a single intention, but an abundance. Intentions are personal and dynamic. Jocelyn explains that "intentions are a multitude of things. It's different for different people. And for different days and different stages of life." An intention may change day to day, as it depends where you are in your life and your human experience. Intentions match whatever you need. Joce describes that her personal struggle over the past 24 hours has been feeling of discouragement. Thinking we were headed toward the light at the end of the tunnel, hopefully with the re-opening of beaches and parks, instead we got news of limitations on beach activity altogether. "The tunnel was made longer, which was discouraging." For Jocelyn, she set an intention of perseverance to serve her carrying on despite disappointment. We each have the power to set an intention to serve our needs, to serve our purpose.
Along with intentions, our growth is highly dependent on the support system we surround ourselves with. Jocelyn holds her Fukuji & Lum ohana close to her heart. From her first phone call with Mark, he told her "we are different here. We are a different kind of company." Joce explains that she left the phone call confused, wondering what this could mean. Through the past years working as a vital member of the team, she has found exactly what makes this company so unique: the people. The community. The love. "I came to understand how close everyone is" and how the company is run, "caring for each individual staff member as if they were a member of their own family. They make sure people feel fulfilled, are happy, feel supported, and feel cared for and loved." Jocelyn expressed how truly important this family is to her. This tribe that helps empower her to be the amazing light we know her as. From a quarantine filled with learning and serving others, to work days filled with smiles and empathy, we recognize Jocelyn. It is easy to understand why when asked to describe her, the words we hear are joyful, loving, compassionate, wise, kind hearted, luminous.
We love you Jocelyn! Thank you for all that you do!