Aloha to Our Spring NEU Co-Op Students!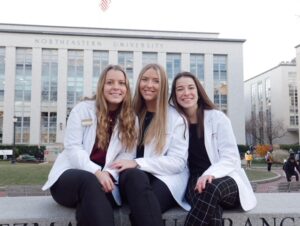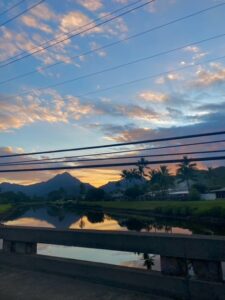 Julia shares her experience in Hawaii thus far and how excited she is for this opportunity. 
Hi everyone!! I'm Julia, I'm from Andover, MA and I'm currently in my fourth year in Northeastern's six-year DPT program. I am beyond excited to be completing my second co-op here at Fukuji and Lum and cannot wait to see what the next six months will have in store!
After doing my first co-op in an inpatient rehabilitation setting, I was eager to experience the outpatient side of physical therapy. I couldn't think of a better place to grow both professionally and personally than here in Hawaii! Not only was I drawn to Fukuji & Lum by the thought of escaping Boston winters, but also because I knew F&L would challenge me to apply what I've been learning in classes and advance my knowledge further. From moving 5,000 miles away, to living with new roommates and starting a new job, I know this opportunity will challenge me in a lot of new ways. However, everyone here has been so welcoming that I already feel like I have a home away from home. I look forward to being able to look back on this experience six months from now and see how much I've grown and all the new relationships I've formed.
I am grateful to be receiving my DPT education from Northeastern, where I know experiences such as this one will help to shape me into the type of therapist I hope to be. Having grown up with both myself and family members receiving PT, I got to see how much of a positive impact physical therapy can have on people's lives. I love how personal physical therapy is, and the connections you get to make with patients as you watch them grow, strengthen and get back to doing what they love. I look forward to being a well educated, compassionate,and personable physical therapist that can provide patients with the highest quality of care.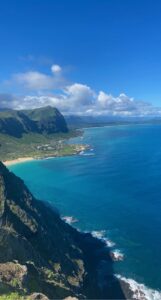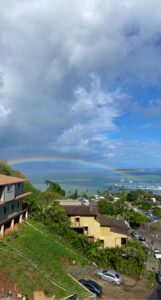 So far, Hawaii has been nothing short of amazing. Every day I'm still in awe of all the beauty this island has to offer, and I look forward to getting to see and do as much as possible in my time here. I hope to get out of my comfort zone and try things that may scare me, like skydiving, ridge hikes, and swimming with sharks. Other than that, I can't wait to soak up the sun, snorkel, relax, make new friends, meet new people and try new foods. So far, I have enjoyed trying musubi, poi donuts and ube hot bread. In just the short time I've been here, I've already compiled a long list of food recs from both patients and coworkers, and I can't wait to make my way through them and experience some of the unique foods Hawaii has to offer.
There are many people who have influenced and shaped me to be who I am today, but I am especially grateful to have such amazing parents to look up to. My mom is strong, selfless and caring. My dad is unbelievably hard working, wise and generous beyond belief. They are both incredibly supportive and the two of them have taught me the importance of working for what I want, never quitting and looking out for others. I hope to one day embody all of these traits, both as a person and as a therapist. I can't wait for them and my three sisters to come and visit me in March!!
Here's to learning, growing and living life to the fullest over the next six months!