Are you ready for some football?
Football's Back!!!!
This week the NFL officially kicks off its regular season schedule and with that millions of people will tune into the games starting with Thursday's game between the Denver Broncos and the Baltimore Ravens. Over 10 million viewers watched Peyton Manning of the Denver Broncos throw 7 touchdowns in leading his team to a opening night win. And with that, hundreds of games will be played from Thursday to Sunday, from Pop Warner, high school, college to the professional level.
For me, watching football changed after having my son, Kaleo, play high school football. He began playing Mighty Mites Pop Warner football in Arizona and has continued his career at Linfield College in Oregon. While it was fun watching him run with the ball as a 7 year old, I never thought it was anything other than a recreational activity that my son would enjoy. As I watched other parents yell and scream at the coaches, referees, and their own kids, I never understood the level of emotion that football involved. I was just hoping that my son would enjoy the game and make lasting relationships and memories.
It was when my son first received his first concussion during the first week of JV practice that I decided to use my profession to get involved. He was diagnosed with a concussion that would keep him out of the first week of school and practice. One of the athletic trainers at Moanalua High School, Cynthia Shimoda called me and informed me of his injury. During his junior year, I asked Cynthia if I could assist the training staff as a volunteer. I had no experience being involved with high school athletics, so it wasn't surprising to me that I felt a little out of place trying to work on teenage boys as a physical therapist. For one thing, not many of the football boys knew who I was. My son didn't go out of his way to acknowledge who I was even though I appeared at practice everyday and was on the sidelines for every game. Second, most of them didn't know what a therapist does and so I was considered another trainer. But I tried to provide something different from the trainers and focused on treatment of injured players and prepping them for returning them to the field.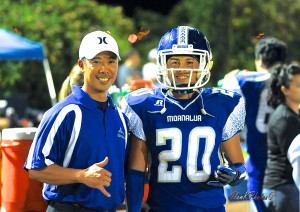 It wasn't until I was able to help some of the players that I began to feel useful. I was able to help with rehabbing sprained ankles, shoulder dislocations, and various soft tissue strains and sprains. Athletic trainers have so many different responsibilities to handle that I felt most useful working on strength and conditioning activities to lessen their workload. I was also able to help with other sports that were in season like girls volleyball and cross country. I learned a ton from the two trainers for Moanalua, Cynthia and Reid Takano. I was so impressed by the way they were able to treat on the field on a moments notice and how they were able to use their skills on the sidelines. I came to appreciate their importance to the football team. Football is such a violent sport and people who aren't on the field really can't comprehend how dangerous the sport really is.
And that's why my view of watching football has changed. I used to have my favorite teams and I would never miss a game but watching my son play I realized several things. I was more involved when I knew the players. I saw that winning wasn't as important as much as coming out of the game healthy. It changed my view that I was more likely to cheer for certain people than for certain teams or schools. I still enjoy watching a good game. I love watching teams compete and how a community can come together to support a team. But now I watch for with a cautious eye and hope more for an injury free game. Especially one that involves people that I know. I find myself paying attention so that if an injury does occur, it will help me understand the situation and how to treat the person.
I still love to watch my son play. I see the way he loves the game and how much being a part of a team means to him and as a parent, you always enjoy watching your kids dreams come true. Right now he is competing to be a part of a nationally ranked college football team which will push him to compete on a higher level than he's ever experienced. He'll have to train his body to handle the rigors of college football and I hope to be a part of that growth in him. I'm sure he'll have some injuries during his college career and I hope to help him get through that.
So as you tune in to watch your favorite team this year, think about why you love football and why you spend so much time watching it. Enjoy all the big plays and the success of your favorite players. And when you do see someone get injured, look for the people who run onto the field to treat the player and cheer for them, as they are just as much a part of the team as anyone else.
Mark Yanai, M.P.T. – physical therapist, husband, father of three, sports fanatic and shoe lover