Every six months I interview and hire new Co-op students from Northeastern University to work with our organization as physical therapy students. From their first Skype interview to their last day in clinic, I feel the need to take care of these kids, making sure they are learning about the PT profession and experiencing life here in Hawaii. I always feel a sense of closeness to them and often wonder what it is that draws me so much to these students.
Last week I dropped my son off to college at the University of Washington for his freshman year. The feelings I had as a dad seeing my son leave home and off to a new school was of both elation and sadness. I felt so proud of him that he was taking on a new adventure and yet I was sad that from now on, I wouldn't get to be a part of it, as I have been. I hope that the new people who become a part of this new chapter will take care of him.
And with those thoughts I realized what draws me so deeply to our Co-op students. While they are not my sons or daughters, the F&L family treats them as such. I feel like a parent watching them grow as students and prosper as employees, while guiding them along the way. I am grateful to be a part of their short stay with us and am happy to say that I had a hand in their learning process so they are able to get the most of out of their experience, whether it be in or outside of the clinical setting.
With that, I am happy to introduce our new student Co-ops this fall semester, starting with Colby.
[one_half]
In a haiku, what school did you attend in high school and what's your current college?
First, Lynnfield High School.
Next, I go to Northeastern
Which is in Boston. [/one_half]
[one_half_last]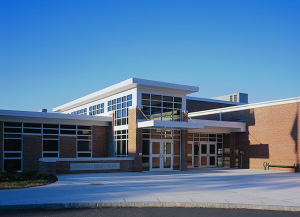 [/one_half_last]
What drew you to PT?
I originally was in school for Mechanical Engineering (at Northeastern University); but after shadowing some engineers the summer before my freshman year of college, I realized I didn't see myself as an engineer in 20 years.  My mom and dad have been in and out of Physical Therapy for as long as I can remember.  Seeing their progress through and through has inspired me to become a part of this field that can positively affect a patient's life.
Why did you want to do your coop in Hawaii?
I grew up in a small town right outside of Boston.  If I didn't experience living in another state outside of New England then I would be doomed to live there for the rest of my life.  Hawaii is a great opportunity to see and learn about a whole new culture.  Now that I'm here I can't wait to move back.
What is the strangest thing you have eaten since arriving?
Lychee Seeds brah, dey broke da mout'!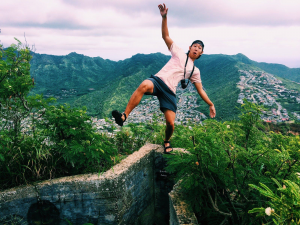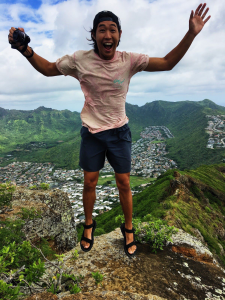 What are your outside interests?
I really enjoy hiking, body surfing, being at the beach, photography, pick-up games of basketball, football and soccer, and playing music.  I'm also involved with the musical theatre company back at school.
What is on your to do list while here?
See the other islands.  Try as many foods as I can.  Take lots of pictures.  Get better at surfing.  Take a Hula Class.  Honestly, the list keeps getting longer every week just by talking to the patients and coworkers.
[one_half]
What is your spirit animal?
The majestic sea cucumber.
What kind of therapist do you hope to be?
I hope that I can be a therapist that not only provides care and therapy to the patient.   But can be a friend if they need it.  I want to foster a relationship with my patients and coworkers that makes choosing to go to work in the morning a very easy decision.  As far as what setting I'd like to work in… honestly I have no idea yet; I would love to have a chance to work at as many different settings as I can.
[/one_half]
[one_half_last]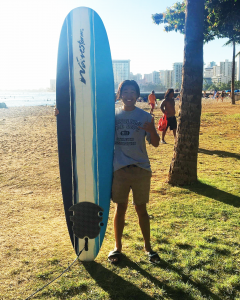 [/one_half_last]
Who is your greatest influence in your life?
I have many influences in my life, all equally important to me.  I can't say one is greater than the rest because I wouldn't be where I am today without all of them.  An important influence has been my parents though.  Being able to go home one day and fix them would be one of the most rewarding experiences.  Another influence is seeing a patient's path to recovery from start to finish.  I'm glad and hope that I will always be able to relish and share the joy of getting a patient back to their "old selves".