NORTHEASTERN STUDENTS REFLECT ON COOP PROGRAM IN HAWAII
If I had to describe my experience working at Fukuji and Lum Physical Therapy, it would be: transformative. When deciding where to co-op, I was so nervous about traveling so far from home that I almost did not accept the offer. However, after spending 6 months at Fukuji and Lum I can honestly say that this experience has been the highlight of my life. It allowed me to gain a new perspective on not only physical therapy but also on myself and how I will choose to live going forward.
One of Fukuji and Lum's mission statements is "to love and grow, as a family." I find that the word family is often tossed around in flyers and ads without much significance, but at this clinic, they truly mean it. Before my trip, I was worried that I would be homesick living so far from my family and friends. However, this was never a problem because I had all the support and love that I needed right here. My co-workers went out of their way to make sure that we were adjusting well, even welcoming us into their homes for Thanksgiving and Christmas.
From the moment I arrived, I could tell that this clinic is an 'Ohana in which people deeply care about one another, celebrating each other's victories and being there as a support system during more difficult times. This was reflected both in the clinic with my co-workers as well as at home with my roommates. I did not know any of the other Northeastern co-op students before coming, but after living together, exploring the island, and sharing our thoughts and experiences with each other we left feeling as close as sisters. I feel so supported in life knowing that no matter where I end up, I will always have the other co-ops by my side as well as an entire group of therapists in Hawaii who will have my back and be there to give me advice when I need it.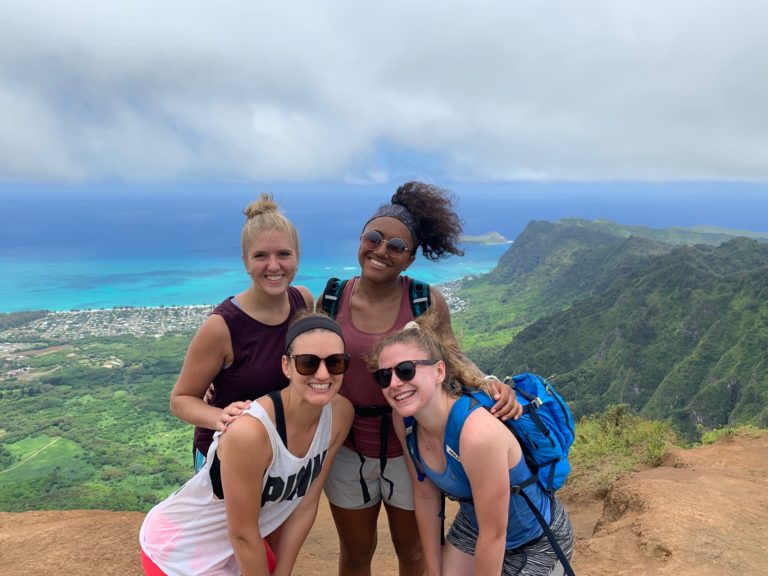 In addition to welcoming me into their family, my mentors at F&L also had a significant impact on how I view the profession and my belief about what physical therapy is. They helped show me how to have a holistic approach and that PT is about treating the patient and not the injury. One of the therapists I worked with would ask every patient he met, "what do you love to do" or "what is your passion." He then made it his mission to adapt the patient's treatment to help meet individualized goals and ensure that they could get back to doing the activities that fuel their spirit and make them who they are.
At Fukuji and Lum, the therapists do everything in their power to make each patient feel valuable and give them the time and attention that they need. After talking with friends back home, I realized this is not always the case and is something that makes F&L special. I had one patient who would often come into the clinic feeling gloomy and down. After talking throughout the session while creating a positive and encouraging atmosphere, she would leave the clinic with her head held high and a smile on her face. Just knowing that we could help turn someone's day around and make them feel better both physically and emotionally was incredibly moving and something that I did not realize was part of the job.
Additionally, the therapists I worked with were never narrow sighted and did not limit their attention to the exact location of the problem. Instead they helped me understand how everything in the body is connected and that sometimes you need to strengthen or re-align a different part of the body in order to address the source of pain/injury and help the individual return to their full functioning self.
One of the most surprising things that I did not expect to learn on co-op was how to be myself in a clinical setting. When professors discuss professionalism in class, it often makes it seem as if you have to act almost robotic and very serious in clinical settings. However,
the nurturing relationships that I formed with my co-workers allowed me to feel comfortable opening up and being myself in the clinic. I realized that I could still have a fun and goofy personality while remaining professional and gaining respect from patients. I think that letting down the walls that I had put up actually enabled me to become closer with my patients and form more genuine and trusting bonds, which can really alter how a patient responds to therapy.
One of the highlights of my experience inside the clinic was getting to form close bonds with some of my patients. One patient in particular was an elderly woman who even changed her schedule to make sure that she could come in on days that I would be working. Every week, we would spend the session talking about the different things going on in each other's lives while going through various exercises. On my last day of co-op, the patient held my hand and looked me in the eyes as she thanked me for helping her get stronger because now she was able to leave the house and go to activities with her family. In that moment, I could feel how sincere the patient was and how much of a difference that therapy made in her life, which was by far one of the most rewarding experiences I've ever had.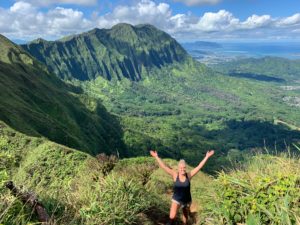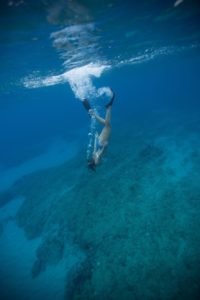 The best part of my experience outside of the clinic was getting to explore the island with my roommates. Every weekend we got to go on a new adventure, whether it was finding a new beach, learning to surf, experiencing a different part of Hawaiian culture/ history, or going on a hike. No matter what we did, the scenery was breathtaking and unlike anything else I had ever seen before. This helped me realize that there are so many opportunities and adventures in any place that you live if you make the effort to find them. Immersing myself in the culture and making the effort to explore and find so many new and exciting things changed my mindset of how I want to spend my time in life. I no longer want to waste so much time sitting around inside. I now know that I want to push myself to get out and discover different events and opportunities around me in any place that I live in order to get the most out of life.
The main takeaway that I have from this experience that is unique to co-oping at Fukuji and Lum is practicing physical therapy with the aloha spirit. This spirit is everywhere at the clinic, both within those working there as well as the patients. This positive and loving atmosphere pushed everyone to grow together which I believe leads to better patient outcomes. This is something that I will hold dear to my heart and carry with me as I try to live and breath aloha no matter what clinic I work in.