Reflecting on the Co-Op Experience
What was the one experience that you think was the highlight of the experience? One in the clinic and one outside the clinic. 
Completing my second coop at Fukuji and Lum in Hawaii was an experience that I will be forever grateful for. I would also say it has been the best experience during my time at Northeastern. Taking time away from Boston and having a completely different environment for 6 months allowed me to grow and make great memories. In the clinic, I enjoyed working on my communication skills when getting to know the patients and teaching them exercises. The patients were very welcoming and it was fun to chat with them about their local recommendations of favorite food places and hikes. Getting to talk about Japan with them and talking to some in Japanese was also memorable and fulfilling.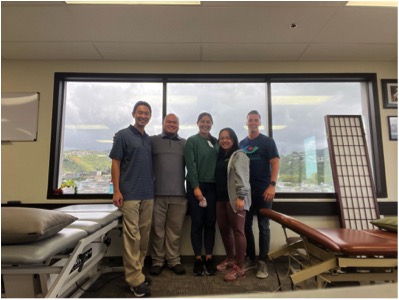 Outside of the clinic, I remember some crazy adventures like climbing Koko Head before work, skydiving and shark diving on the same day, getting lost on hikes, swimming to the middle of the ocean to see dolphins, and when Alltrails.com would underestimate the difficulty of the trails which put me in some rather dangerous situations than I would have preferred. Crossing off my Hawaii bucket list activities regularly was very exciting and made me appreciate each day of my long but short visit.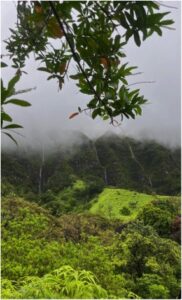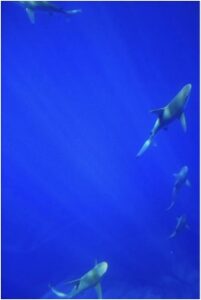 If you had to choose one word about your experience, what word would you choose?
One word I would use to describe my experience would be grateful. As much as I was excited to have the opportunity to live in Hawaii, moving to Hawaii for 6 months sounded risky. However, getting out of my comfort zone with new adventures outside of the clinic and in the clinic, I feel grateful for the people that made this the amazing opportunity that it was. There were many moving parts to make this experience possible starting with my family and the welcoming people that I met and got close to, so I will remember to appreciate how this was possible. The result of taking these risks and trying new things brought me to Hawaii and Fukuji and Lum which will boost my confidence to challenge myself in the future as well.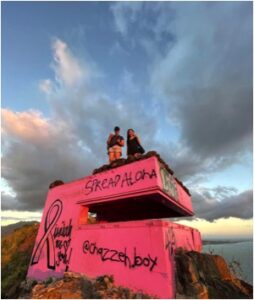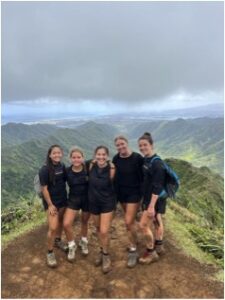 Who had the most impact on you during your time here?
Everyone I got to work with impacted me in many ways, especially those at the Honolulu clinic. I got to learn from a diverse range of treatment styles and personalities through each PT and PTA. This helped me begin navigating my interests and style on how to treat and interact with patients. I appreciated the time devoted by the therapists to teach and explain their logic and tips for their treatments which I hope to be able to do for other students in the future as well. They encouraged me to ask more questions, provided opportunities to learn, and let me practice hands-on techniques. Being a clinical student next year, the open environment here has prepared me to be more involved and proactive with my learning. In addition, being back in classes now, I have especially been grateful for the learning experience in the clinic because I now have some familiarity with concepts and techniques has been very helpful.
From this experience, what intentions will you have going forward with your career?
With my career, I hope to integrate the welcoming and family culture from Fukuji and Lum and Hawaii in my practice. Going forward, I know I have made many life-long relationships that I can reach out to for anything which I am very thankful for. Although I miss everyone and life in Hawaii, I am motivated to get back in the classroom to learn more and become a PT myself.