Welcoming our Fall NEU PT Students!
Sarah tells us about her passion for becoming a physical therapist and how excited she is to be learning in such a beautiful place!
What school did you attend in high school and what's your current college?
Hello! My name is Sarah! I am currently attending Northeastern University's DPT program. I attended Pomperaug High School in Southbury, CT. I then attended the University of Delaware where I majored in Exercise Science.  
What drew you to physical therapy?
As an athlete growing up, I have always valued movement and exercise and know how much it impacts a person's well-being. I have always known I wanted to go into a profession where I would be able to help others and physical therapy allows me to do just that! I love how this profession enables individuals to get back to doing the activities and hobbies they enjoy by educating the patients on what they can do to help their own bodies and become an active part of their healing process. This profession allows the therapists to build a relationship with their patients to work with them to achieve their goals to get back to doing what they love. 
Why did you want to do your co-op in Hawaii?
I wanted to do my co-op here in Hawaii because I have always loved traveling and exploring new places. I also felt like it was a great time to experience change and live somewhere new! I also heard such amazing things from past co-op students about their time with Fukuji and Lum and wanted to experience it myself!
What has been your experience like so far?
I have loved my experience so far and every day I wake up and feel so grateful that I am able to learn and grow in such a beautiful place. Everyone at the clinic is so welcoming and excited to share their knowledge. They are always willing to take time to explain the different aspects of their sessions from manual therapy to the exercises they chose and encourage me to learn new skills. In addition, they have been very thoughtful and spent time getting to know me as an individual. From giving me different books about Hawaii to playing games to get to know me better, I have felt very welcomed and thoroughly have enjoyed my time here so far!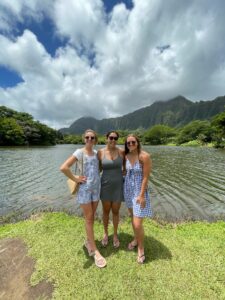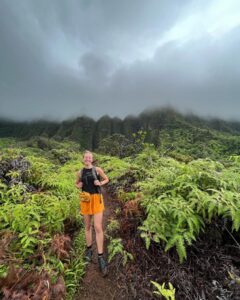 What's the strangest thing that you've eaten since arriving?
I haven't eaten anything that strange so far. However, the most unique thing that I have tried is poi, which was new. I am very excited to try more Hawaiian foods when I am here! 
What is on your to-do list while here?
Everything and anything! Overall, I am very excited to explore everything this island has to offer and look forward to all the gorgeous hikes, long beach days, and sunrises/sunsets I am lucky enough to experience while I am here! 
What kind of therapist do you hope to be?
I want to be the kind of therapist that makes the patient feel like they are listened to and understood. I want patients to feel as if I am caring for them as an individual as opposed to just treating one specific injury. I want to lead with empathy, compassion, and understanding to provide the best care possible!
Who is your greatest influence in your life?
The greatest influence in my life has been my grandmother. She is the sweetest person and always goes the extra mile for everyone and is so caring. Kindness and humility can be seen in everything she does and inspires me to do the same.