Reflections and Gratitude
Aloha!
It is 35 degrees in Boston today. One of the milder days lately. Just wanted to put that out there :)!
I'm sitting in my room, looking at pictures and reading my journal. I remember the moment that I fell in love with the thought of this experience. It was a first-year meeting with my co-op advisor. I was interested in looking for a co-op in California, but was told that my closest option was a clinic in Hawaii… The dream of hiking, surfing, and being immersed in Hawaiian culture for six months was permanently etched into my mind.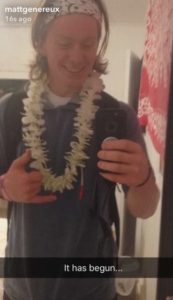 And just when I thought I couldn't get any more excited, I saw Fukuji and Lum's website, read the higher purpose, mission statement, values, and Mark's blog… My heart had made its decision.
I remember the night that I landed in Hawaii. The mirror selfie with my first lei, first shaka, and a smile that couldn't be wiped off my face. A whole lot of life has been lived since that moment. I'm not quite sure how to put all of it into words, so I'm just going to write for a few minutes and list a bunch of things that I loved and were meaningful to me as they come to mind… [/two_third_last]
I loved walking around barefoot everywhere, even getting the occasional 'local feet' compliment that boosted my ego and made me feel like I belonged. I loved having the time and space to journal everyday, which had been a goal of mine for years. I loved sitting by the water in Colleen's backyard in the mornings, watching the sunrise and focusing on my breath. Sitting in the same place some nights and playing guitar under the stars… I loved kayaking to work –somedays a peaceful experience and other days a slightly more exciting/scary but equally awesome and meaningful one. I'll be lucky if I can ever top that commute…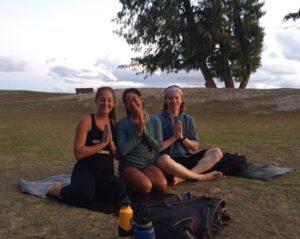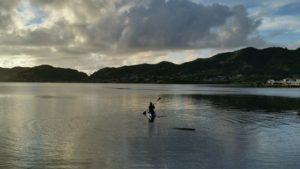 I loved the energy I felt when I walked into work every day. The high-fives, the laughs, the smiles. A whole lot of smiles. The spirit days that pushed me out of my comfort zone and occasionally ended with braids in my hair. I loved that we always seemed to be celebrating something or someone, and that potlucks were such a regular event. Curry Friday's at work… The mochiko chicken was pretty incredible, but wasn't nearly as awesome as the smiles, laughs, and 'food comas' that came with it.
I loved playing ukulele by the pool during breaks. I loved connecting with patients, learning Hawaiian and Pidgin words from them, hearing their stories, and playing a role in their recovery, no matter how small. I loved that I was able to play basketball every week with a beautiful view and even better company.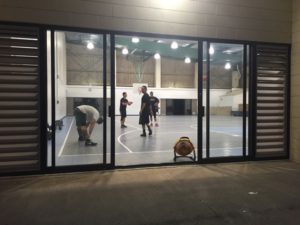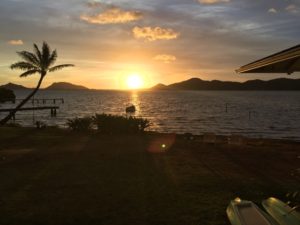 I loved surfing (a.k.a. lots of paddling around, getting tossed by waves, and occasionally catching one), hiking, learning ukulele, traveling to outer islands, getting to know a lot of really incredible people, and building professional and personal relationships that are far from over… Most of all, I loved that I was able to share this experience with four other awesome students, who added so much value to my life over the last six months.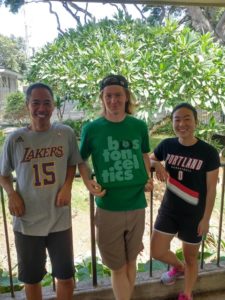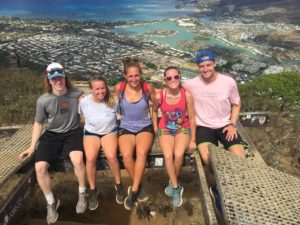 I love highlights, but one of my favorite parts of this experience was that it was so real. I still experienced stress, overwhelm, indecision, frustration, sadness, self-consciousness… I even had one week when I managed to lose my brand-new GoPro, almost sink on my commute to work, and donate my iPhone to the ocean in the process (although I did find this unintentional technology cleanse pretty enjoyable ☺). These were often the days and moments that I learned the most about myself, so I'm grateful for them too.
My time in Hawaii was deeply meaningful to me and has impacted me in many ways that I probably haven't even realized yet. What I do know is that it helps me remember to slow down, to appreciate where I am and who I'm with in this moment, and to always strive to 'live aloha' through compassion, serving others, and spreading positive energy. I felt more comfortable 'being me' over these last six months than I have felt in a very long time, which is funny because I stuck out so much. Red hair, inability to tan, and all. I'm not sure exactly what allowed me to do that, but I think it has a lot to do with the aloha and Fukuji and Lum's culture…
It was a blessing to work for a company with such a strong, positive, and transformative culture and vision. I am so grateful that my path led me here, and grateful for everyone at Fukuji and Lum who showed us co-ops so much love and aloha and welcomed us as a part of the Ohana. I love how you all approach life and physical therapy…
Mahalo for being a part of my journey. A Hui Ho, Hawaii!
Matt