[one_third]
[fancy_images width="150″ height="150″]
[image title="Sarah Agustin, NEU Co-Op Student" caption="Sarah Agustin, NEU Co-Op Student"]https://fukujilumpt.com/wp-content/uploads/2015/02/image1-e1423520370765.jpg[/image][/fancy_images]
[/one_third]
MEET SARAH!
Sarah Agustin is our third Co-op from NEU who joined F&L this January.  She is a graduate student in the physical therapy program and will soon graduate later this year. Sarah is also our very first student who is "homegrown" right here in the islands from the Nuuanu area.
Here's a little bit about Sarah and her perspective of what it feels like to be from Hawaii and going away to the mainland for school.
What school did you attend in high school and what's your current college?
I was born and raised in Honolulu and graduated from Iolani School in 2008. I completed my undergraduate degree at Concordia University in Irvine, CA majoring in Athletic Training. I am currently a Post-Baccalaureate of Physical Therapy at Northeastern University.
What drew you to physical therapy?
Being in the athletic training program I had the opportunity to shadow several physical therapists and see the impact they made on athletes' lives. Seeing the process from acute care to post op, I knew this was my niche. 
Why did you want to do your Northeastern Co-op in Hawaii?
Being from Hawaii I wanted to find a way to return to the islands to give back to the community. F&L offered a wide variety of therapy services that i could learn from which will allow me to build a better foundation.
What has your experience been like so far?
I was excited to return home after being away for a year to enjoy warm weather, ono grinds, and family and friends. I am excited to show the Co-op students what Hawaii has to offer.
What have you missed about Hawaii that you realized being away for college?
Being away for college I realized how lucky I was to live in Hawaii. I really missed the variety of foods and the Aloha spirit. I missed being able to wear my "rubbah slippahs" daily and not worry about the weather today, tomorrow or the next day.
What was the first thing that you were looking forward to eating when you came home?
Right off the plane my first stop was Nimitz BBQ for meat jun packed with a variety of Korean vegetables.  Over the next several weeks I enjoyed Grandma's Filipino food, Poke bowls, and Helena's Hawaiian food.
Being the first Co-op from NEU to return to Hawaii at F&L, what are you hoping to find out about the experience?
During the first month at F&L I have witnessed a variety of skills and extensive knowledge throughout the staff.  I am hoping to gain a better understanding of each of their specialties and how I can apply it to my future career. Such as: Graston techniques, manual therapy, and aquatics.
What's been unique about F&L from your other experience in physical therapy clinics?
F&L is unique in that they focus on creating relationships not only between their employees but also with their patients. I really value that F&L embraces change, encourages growth, and challenges me to grow in my profession.
What is on your to do list while here in the Islands?
On my bucket list is to do many different hikes but most of all tackling Kalalau on Kauai.  I also want to leave this Co-op experience with a better understanding of our profession.
What are your interests outside of school and work?
I love hiking, going to the beach, and spending quality time with my Ohana. I also love staying active and seeking new adventures.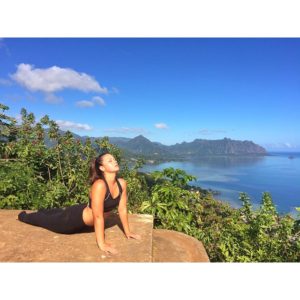 What kind of therapist do you hope to be?
I hope to be a therapist that has a vast understanding of various modes of physical therapy techniques. I have an interest in specializing in hand therapy and prosthetics.
Who is your greatest influence in your life?
My greatest influence is my parents who have instilled the importance of a good work ethic. They have encouraged me to set high goals and to never give up.