Fukuji & Lum's receives a handful of Northeastern University physical therapy students every semester. For spring semester 2017, we just said mahalo and good-bye to five awesome, enthusiastic and hard-working students who we know will make a great impact in the physical therapy world. We wish them the best!!
This July we welcomed five new students who will be with us till December. We look forward to teaching and nurturing them as well as sharing our island spirit and company culture, which they will be able to take back with them to Boston.
You've just met Matt in our previous blog, now here's Kyle and Grace with a few words about themselves and why chose to study physical therapy.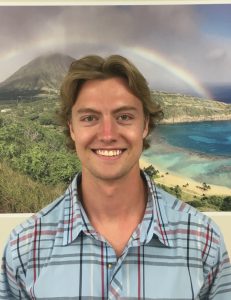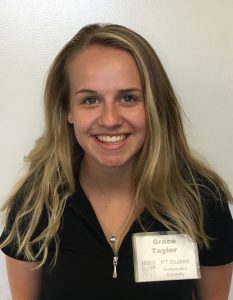 Kyle's Blog
What school did you attend in high school and what's your current college?
I attended Andover High School in Massachusetts. I now go to Northeastern University in Boston.
What drew you to physical therapy? 
There have been a few things that have drawn me into the field of physical therapy. In high school I was a rower and our coach focused hundreds of hours on moving correctly and power application. This was the start of my fascination with the body, how it moves, and the quest to perfect movement in sport. From there, I would research different body parts and how to exercise them. Fast forward a few years to 2015 when I injured my shoulder, I researched what I thought was wrong and how to rehab it. The process of troubleshooting the injury and trying to rehab it was really exciting for me. As exciting as it was, it didn't work so well, so after a few weeks I went to a real PT. When going myself, I enjoyed the atmosphere and the role of a PT in a patient's recovery. It was a relaxed environment where everyone would chat and joke and I could see myself working in something similar.
Why did you want to do your co-op in Hawaii?
I used to work with a youth development program called Andover Youth Services and it was a huge influence in my life. One of the most significant values we lived and encouraged in the young people was to get out of your comfort zone. When looking for co-ops I wanted to stay consistent with my values so I wanted to go somewhere that would challenge me and give me a new experience. I've found that forcing myself uncomfortable situations is when I learn the most.
What has been your experience like so far?
After 3 weeks on this beautiful island I'm confident coming here was the right decision. Working in Honolulu, I'm exposed to a demographic I wouldn't otherwise be if I was working in Boston. The clientele is typically on the older side and many are of Asian descent. Occasionally I'm tasked with working with someone who speaks no English. This has been hard for me so far, but it is challenging me to improve my visual cues and other nonverbal communication.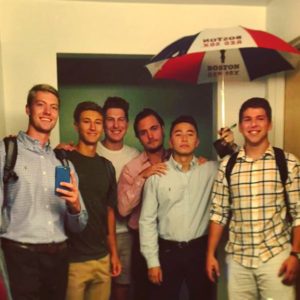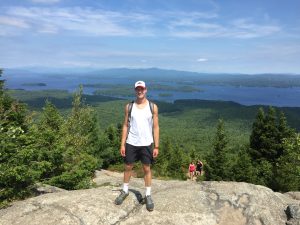 What's the strangest thing that you've eaten since arriving?Being here for about a month I haven't had a ton of time to really venture into strange cuisine. I've tried some local foods like poke and I'm a big fan of the Hawaiian marinade at Fresh Catch. Also our host family makes ahi and ono jerky which is a little unusual. Other than that I think I've eaten pretty similarly to back in Boston.
What is on your to do list while here?
I'm a little limited with having shoulder surgery a few months ago but I'd like to hike, surf, explore the islands, jump off some cliffs, and eat some more exotic food.
What kind of therapist do you hope to be?
Of course I want to be the best therapist there can be. I want to be a therapist who deeply understands each treatment and why it works. I want to be up to date with new technologies and methods of treatment to give my patients the most efficacious therapy they can get. I want to learn how to garner my patient's imagination of who they can become and use it to motivate them to work towards their goals.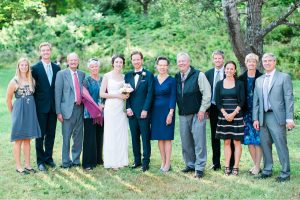 Who is your greatest influence in your life?
I'd be lying to say anyone influenced me more than my parents. Simply living with them for the greater part of 20 years I've learned an incredible amount. From my dad I've learned how to be industrious and how to learn. From my mom I learned how to listen and be empathetic. These traits among others have been super beneficial in my journey through life.
Grace's Blog
What school did you attend in high school and what's your current college?
I attended Trinity College School in Toronto, Canada. I am now a student at Northeastern University in Boston, Massachusetts.
What drew you to physical therapy? Ever since I was young I knew I was interested in a helping profession. I was interested in a variety of positions such as dentistry, chiropractic care, and Occupational Therapy. I had the opportunity to shadow a few physical therapists and fell in love with the profession. Each and every day I find myself loving it more and more.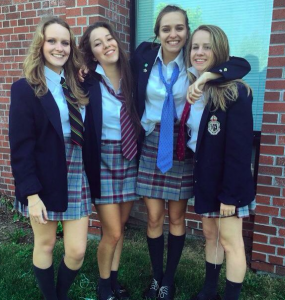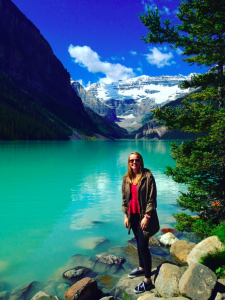 Why did you want to do your co-op in Hawaii?
There are many reasons why I was interested in doing my co-op in Hawaii. I have always enjoyed traveling and learning more about the world around me, and this seemed like the perfect opportunity. During this last semester, we have also had many discussions on cultural differences and the impacts it can have on physical therapy and other forms of care. This co-op seemed unique in its ability to introduce me to this learning curve. Lastly, Fukuji & Lum has a focus on family culture. I am very close with my family back home, so I was naturally drawn to F&Ls values and overall mission and purpose.
What has been your experience like so far?
Traveling to a new place can sometimes be daunting and with it comes a lot of unknowns. From the get-go I felt nothing but kindness and support through the transition. It's like a home away from home. I get along so well with the other co-op students and my new coworkers, and I am so excited to see what adventures this journey takes us all on.
What's the strangest thing that you've eaten since arriving?
We haven't really explored eating strange things yet. We have tried poke a few times now, and I have yet to be disappointed! Giovanni's shrimp trunk was also delicious, highly recommend! I'm hoping to try lots of new foods, especially spam musubi, acai bowls, and poi. I'm also looking forward to finding the best shaved ice around!
What is on your to do list while here?
I mainly want to explore the island. I want to go on lots of different hikes and learn about the history of the island and Hawaii as a whole. I am also excited to get to know more about Hawaiian culture by exploring things like a Luau, hula dancing and listening to Hawaiian music. I have been working on Hawaiian Pidgin and I am trying to learn a new word every day. I'm hoping I'll be able to take some of it back and confuse my friends back home!
What kind of therapist do you hope to be?
Physical therapy can be a very rewarding job, because we have the opportunity to help patients reach their personal goals. I think the relationship between therapist and patient is what you choose to make it, and I hope to be a motivational and supporting factor in my patients' lives. If I am able to positively impact a number of my patients during my time as a therapist I will feel rewarded.
Who is your greatest influence in your life?
My greatest influence in my life is my older brother Riley. He is my built in best friend and I look up to him in many ways. He pushed me to embrace this opportunity and for that I'm grateful. I can't wait to continue to grow up and find our way in life together.