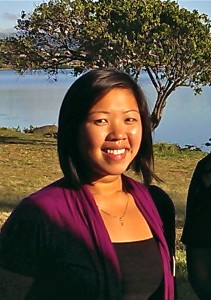 Lauren Palang, SPT from Northeastern University
* Lauren has been my student for the past three months. She is in her last year as a physical therapy student and just completed her internship with Fukuji & Lum last week. In this week's blog, she writes about her experience with us at our WORC site. ~ Mark Yanai, MPT
Choosing a site for my internship was not the easiest task, but when I saw that I had an opportunity to carry out my second clinical education experience at Fukuji and Lum PT in Hawaii, I knew that choosing this site was a MUST! Working for F&L has been a great experience in every way possible. With the clinic being right on the bay, waking up early to get to work was a piece of cake. Imagining that the first day of my clinical was going to be nerve wrecking, I ended ended the day knowing that I would fit right in.
The site I chose is mainly a worker's comp clinic, so I was not sure what to expect as I am unfamiliar with working in this type of setting. After a couple weeks, I realized it is no different than any of my past experiences. Throughout my time with F&L I have learned new manual techniques, various outlets to aid with therapeutic exercises, and my clinical reasoning has been challenged with different patient diagnoses. From a simple wrist strain to spinal surgery, the wide range of diagnoses has taught me a lot. Also, F&L's work conditioning/work hardening program is one that I experienced here for the first time. It allowed for a great learning experience as it kept me on my toes with each patient's plan of care. Since patients often stay for durations of two to fours hours, each session had to be switched up in order to keep the patient motivated and entertained with the goal of a work simulation type of session.
Beyond the educational realm of physical therapy, I have also learned a lot about the Hawaiian culture. From the insights of all my patients, whether they were true locals or born somewhere other than the islands, each and every patient was kind enough to share their stories and offer friendly advice about things to do and sites to see.
Overall being a part of the Fukuji and Lum Ohana and living on the island these past few months, has been nothing but amazing. My clinical instructors and the support staff did not miss a step on making my time at the clinic a continuous learning experience. I would recommend it to anyone who wants to learn from a great staff and live in paradise for a few months, to definitely take this opportunity as you wont regret it. This internship is one that I will never forget.
Mahalo,
Lauren