We are always excited to hear about our students' experiences and learn about their favorite parts while in Hawaii and working with Fukuji & Lum staff. Holland tells us what impacted her the most and the highlights throughout her six months as a co-op.
What was the one experience that you think was the highlight of the experience? One in the clinic and one outside the clinic.
Since coming back two months ago, so many people have asked me what the best part of my time in Hawaii was, and I still struggle to come up with an answer because the whole experience was so surreal and amazing! One experience that sticks out was the open house at the newly renovated Kailua clinic, the clinic reopened during my first week so it was so much fun to share the space with everyone and get to celebrate all the hard work that went into it all together. That was the first event I attended with the whole company and it was so great to really feel like part of the 'ohana. Outside of the clinic, the highlight would have to be hiking to Moanalua valley trail to stairway to heaven with the other four coops. It was my favorite hike on the island, and it was so special to accomplish it all together (even after a few scary moments on the way up)!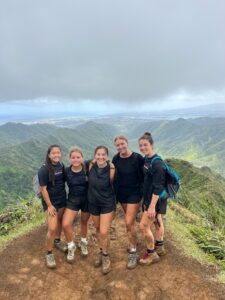 Who had the most impact on you during your time here?
It's impossible to pick just one person! All the PTs, PTAs, techs, and of course the other coops made the experience what it was. I was lucky enough to spend a lot of time working with Rachel Hyland at the Kroc center and got to learn so much from her about PT, leadership, and life on all our drives out to Kapolei. The whole staff at the Kailua clinic was so amazing and always willing to take time out of their day to teach me new skills and test my knowledge, I learned so much from every one of them. Most of all, the other coops made the experience so much fun both in and out of the clinic—we did so much together and I couldn't have asked for a better group of girls to share this chapter of our lives!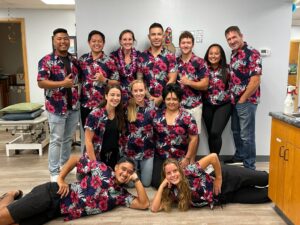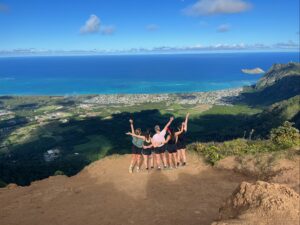 What was the most surprising thing that you did not expect to learn?
I didn't expect that I would learn to love orthopedics as much as I did! On one of my first days in the clinic, one of the therapists taught me about scapulohumeral rhythm and explained how the thoracic spine can affect shoulder mobility; this helped me to realize just how much everything is connected and how the body really is a puzzle. I love how intellectually challenging ortho can be, and as I learned more throughout my coop and began to be able to put the pieces of the puzzle together I really grew to love it.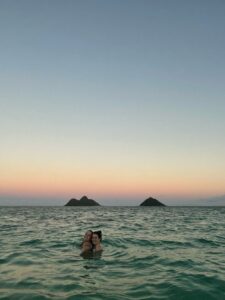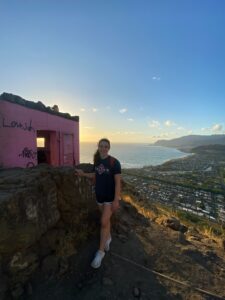 From this experience, what intentions will you have going forward with your career?
In my first blog post, I said I hoped to be the kind of therapist who is a great educator. After my six months at Fukuji & Lum, that intention has not changed. In addition to educating patients in order to help them achieve the best possible outcomes, I also understand how important education is for the profession as a whole. The work that Fukuji & Lum is doing to educate people on the value of PT as part of their standard healthcare is so valuable and unique, and I know this kind of education will help to grow the profession so much. I hope that in my career I can do similar work to educate people on all that PT can be and to continue to advance the profession. Additionally, I hope to be a mentor and educator for students. I learned so much from everyone at Fukuji & Lum and am so appreciative of their mentorship, I can only hope to pay it forward in my career.
If you had to choose one word about your experience, what word would you choose?
Adventure! This coop was truly the adventure of a lifetime, when I first came to Hawaii I made it my goal to leave no stone unturned and between skydiving, swimming with turtles, dolphins, and sharks, 60+ hikes, and chasing countless sunrises and sunsets I truly made the most of my experience and didn't waste a moment.